Well-known KGI Securities analyst Ming-Chi Kuo had claimed in October 2017 that the 2018 iPad Pro will be borrowing TrueDepth Camera and Face ID features from the Apple iPhone X. Recent rumors have suggested that the 2018 iPad Pro may sport an edge-to-edge screen flanked with slim-sized bezels. Some information that have surfaced through the code of iOS 11.3 beta has certain references for a "modern iPad" suggest that the 2018 iPad Pro would be equipped with a notch like the iPhone X.
Before launching the iPhone X, the Cupertino-based firm had referred to it as the "modern iPhone." The reference of "modern iPad" was first spotted in IOS 11.2.5 and it has been now spotted in iOS 11.3 beta. The "modern" word was reportedly used to distinguish the hardware of the Face ID enabled iPhone X from iPhone 8. This seems to be a good indication that the 2018 iPad Pro will be featuring Face ID sensor.
KGI's initial report had only claimed that Face ID would be arriving on the 2018 iPad Pro, but it did not reveal any information on the design. In order to feature the Face ID sensor, Apple had to launch iPhone X with a new design. Hence, the Face ID enabled 2018 iPad Pro may come equipped with an iPhone X-like design. Kuo had specifically stated earlier that the cheaper iPad won't be featuring the Face ID sensor and it would be exclusively available on the "Pro" edition of iPad.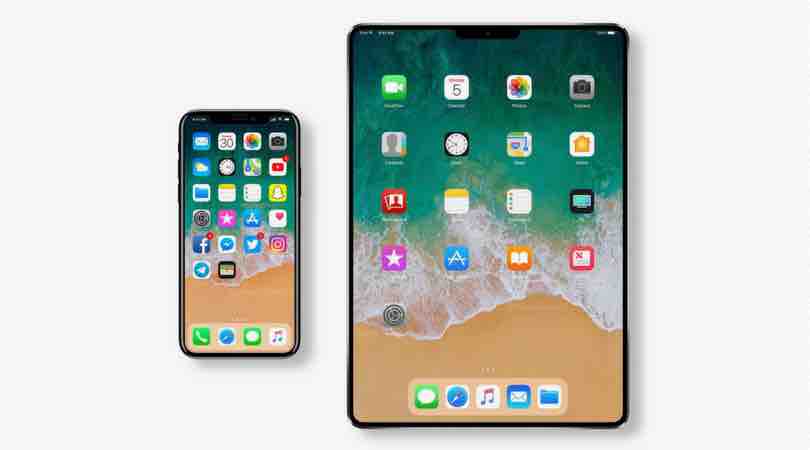 Read More:Apple Will Finally Launch the HomePod On February 9 For An Expensive $349 Price Tag
This year Apple is speculated to launch a sequel for iPhone X with 5.8-inch OLED display, a large sized iPhone X-like model with 6.5-inch OLED display and an entry-level iPhone with 6.01-inch LCD display in September. However, it is also rumored to use the Worldwide Developer Conference (WWDC) 2018 platform in June the rumored iPhone SE 2 and the modern iPad Pro.
Would you be interested in buying an iPad Pro with bezel-less design and an iPhone X-like notch? Let us know your views by adding your comments below.
(source)