AnTuTu Releases Smartphone Users Preference For February 2018
AnTuTu has released a comprehensive report of the smartphone users preference as captured in the month of February 2018. The report covers such aspects as preferences based on display size and resolution. The report also shows users preference based on RAM sizes, storage sizes and the operating system. The report is based on user preference in China but this isn't too different from the global user preference except in low-income markets where budget phones (pricing) top the preference charts.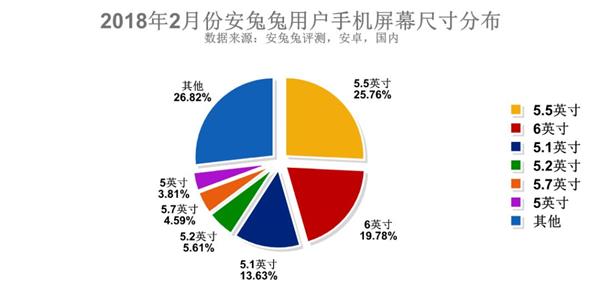 The report again reaffirms the rapidly-increasing full-view display trend and a shift towards large display packing smartphones which falls into the phablet category. In terms of display size, 5.5-inch displays turned out to be the most popular with a 25.76% share of the market. This is closely followed by 6 inches displays which accounted for 19.78% of the market, a big leap from 6.38% in April last year. 5.1-inch models are also quite popular with a  percentage ratio of 13.63%. 5-inch display-packing smartphones continue to reduce and now sits at 3.81% as against 7.66% in April last year. Other display sizes in use include 5.7 inches- 4.59%, 5.2 inches – 5.61% while others like display sizes ranging from 3.5 inches – 4.9 inches account for 26.82% of the market.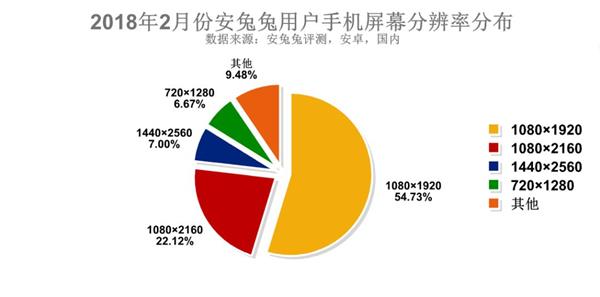 In terms of display resolutions, the Full HD (1920 x 1080p) display still remains the most popular, accounting for 54.73% of users' most preferred models. This is closely followed by the FullHD+ (2160 x 1080p) displays utilized on full-screen models which accounted for 22.12% of the market. QuadHD displays (2560 x 1440p) are even popular than the HD (1280 x 720) displays, coming with a 7% market share and the HD with a 6.67% percentage ratio.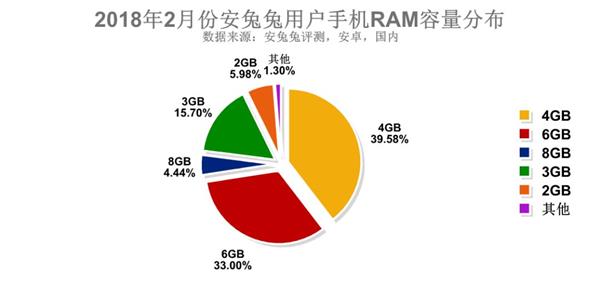 On RAM sizes, 4GB RAM phones are preferred by 39.58% of users while 33% prefer 6GB RAM phones. Interest in 3GB RAM phones is waning as it accounts for only 15.70%. 8GB RAM phones account for 4.44% while 2GB RAM models hold 5.98% of the market.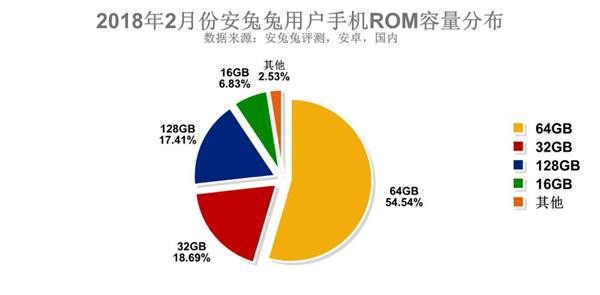 User preference based on internal storage shows 64GB storage models are most popular among users with a 54.5% ratio. On the other hand, 32GB ROM models accounted for 18.69% of the market in February while 128GB ROM models continue to grow, making up 17.41% of the market and there is 6.83% for 16GB storage models.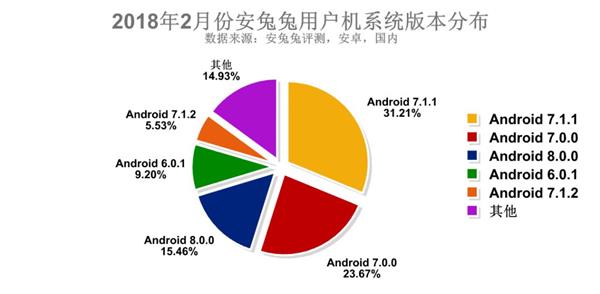 Read Also: AnTuTu's 2017 Annual Report Reveals Key Smartphone Usage Details!
Finally, the report touched on the user preference based on Android operating system version. As should be expected, Android 7.1.1 Nougat-based models claim the lion share with 31.21%. Models running un-updated Android 7.0.0 Nougat version are also very popular with a 23.67% spread.  The use of Google's latest Android 8.0 Oreo is fast gaining ground with a 15.46% market share. Android 6.0 marshmallow claimed 9.20% of the market while Android 7.1.2 Nougat accounts for 5.53%. There are still a handful of models running older Android version like Android KitKat, JellyBean, Lollipop etc, and this group accounts for 14.93% of users.
(source)