Chinese Phone Shipment Slumps To Its Lowest Level Since 2013
China is the biggest smartphone market globally and it is no coincidence that majority of the top OEMs globally are Chinese companies. The Chinese smartphone market holds lots of potentials but that doesn't mean it won't get saturated. In fact, analysts had long warned that the Chinese market would reach its saturation point soon, considering the rate new models are being introduced into the market by OEMs. That long-anticipated growth crunch may have arrived. A research report by Canalys has shown that shipments by Chinese phone makers dropped by 21  across the industry fell by 21 percent year-on-year in Q1 2018.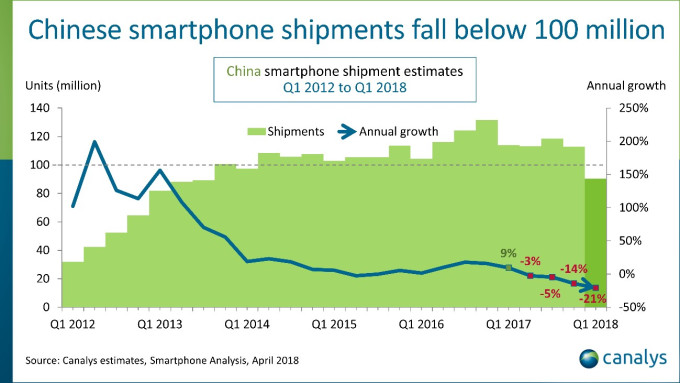 The report hints that the total number of phones shipped in China fell short of the 100 million mark in a quarter and this is the first time the market was witnessing such slump since 2013. Out of the top 10 phone vendors in China, eight were hit by annual declines in shipments with Gionee, Meizu and Samsung shrinking to less than half of their respective Q1 2017 numbers. Only two, Xiaomi and Vivo recorded a Year on Year increase in their shipment volumes.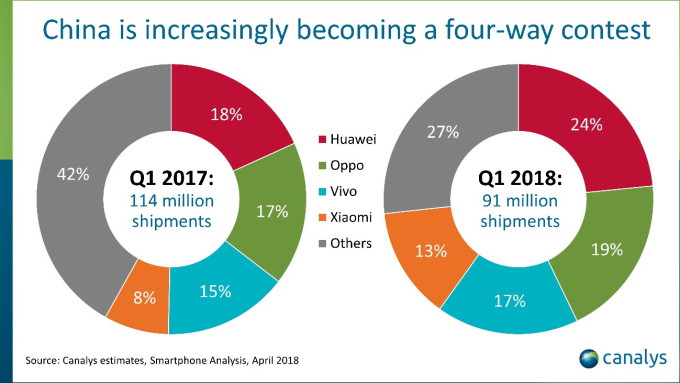 If you are a fan of Xiaomi, it may interest you to note that the company was able to post a positive momentum despite the slump. Xiaomi's shipments grew by 37% YoY to reach 12 million. The growth was enough for the brand to climb up to the fourth positive, beating Apple to it. However, the revenue doesn't reflect that as the sales relied heavily on the Redmi models which are not so profitable. Huawei maintains its lead on the market, according to Canalys and is closely followed by BBK-pair OPPO and Vivo.
Read More: Xiaomi Turned 8 in April: We Pick The Top Smartphones From The Company Till Date!
Interestingly, the top four Chinese smartphone vendors account for a huge 73% of all shipments, which Canalys believes is bad for consumers and smartphone enthusiasts in China. This sort of situation could stifle innovative brands like Meizu, Smartisan, 360 Mobiles, Red Pepper and others out of the market. As for the slump in gross shipment, we don't believe doomsday is here already but it could be as a result of the low number of phones that were launched by the brands in the first quarter. We expect a rise in shipment in Q2 when a number of models, including flagship models, would be launched.
(source)