A mysterious Xiaomi phone labelled as "Xiaomi Cactus" has appeared on Geekbench benchmarking platform. The listing reveals that the smartphone is powered by an unannounced MediaTek SoC. In the previous month, an unidentified Xiaomi phone called Xiaomi Cereus was also spotted with the same SoC. It seems that the Cactus could be lower variant of the Cereus phone.
According to the Geekbench listing, the Xiaomi Cactus is running on Android 8.1.0 Oreo. It is powered by MediaTek MT6765 SoC that features a quad-core processor that clocks at 2.0 GHz along with 2 GB of RAM. In single-core test, the Xiaomi Cactus has scored 802 and it has recorded a score of 2334 in the multi-core test.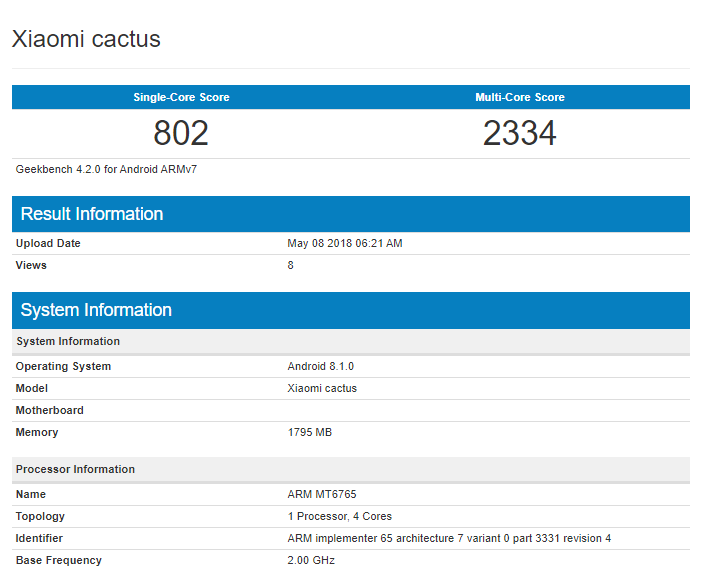 There seems to be some error with the processor information of the Xiaomi Cactus as the Geekbench listing of the Xiaomi Cereus had revealed that the MT6765 chipset has 2.0 GHz octa-core processor. The Xiaomi Cereus phone has 3 GB of RAM and it is loaded with Android 8.1.0 Oreo. It could be the higher edition of the Xiaomi Cactus. As far as the unknown MediaTek chipset is concerned, some reports have claimed that the MT6765 could be the Helio P40 SoC.
Read More: Purported Xiaomi Mi 7 Leaked Photos Appear to Reveal Design, Key Specs
The Redmi 4 series includes Redmi 4A, Redmi 4, Redmi 4 Pro and Redmi 4X. So far Xiaomi has released Redmi 5A, Redmi 5 and Redmi 5 Plus phones in the Redmi 5 series. Last year, Xiaomi had debuted the Redmi 4X in February. Hence, the company is expected to Redmi 5X phone soon. The Cactus and Cereus phones could be the 2 GB and 3 GB RAM editions of the alleged Redmi 5X.
It is advisable to take this report with grain of salt as there is no direct evidence to confirm that Xiaomi Cactus is the Redmi 5X phone. What's your opinion on the mysterious Cactus phone? Could it be the Redmi 5X or some other Redmi phone? Share us your views by posting your comments below.