Lenovo K8 Note Forum Site Temporarily Closed After Facing Criticism Due to Failed Android Oreo Update
by Anvinraj Valiyathara ago0
At the beginning of this month, Lenovo rolled out the Android 8.0 Oreo update for the users of Lenovo K8 Note. However, the update has brought along plenty of issues to the device. Apparently, K8 Note users who have encountered multiple problems after installing the update have flooded the official forum site with numerous new topics and most of them have been created without checking whether the topics already exists or not. In a bid to control the situation, the company has decided to temporarily disallow users from creating new threads.
One of the forum site administrators named Andy_Lenovo has created a new topic that reads "Why Can't I Create a New Topic?" (as shown below in the image). The post states that majority of threads that have been created in the last few days are duplicates since members have added new topics without checking whether the same topic exists on the forum or not.
Since the forum got flooded with duplicate topics, the option to create new topics on the forum site has been disabled. The administrator added that the existing duplicates are required to be merged with base threads or locked which is a time-consuming process. Also, he has requested users to even stop searching for topics before adding a new post because administrators and moderators require more time to deal with the existing threads. As expected, Andy_Lenovo's post has also met with fresh set of complaints.
Many smartphone OEMs have encountered problems while pushing Android Oreo update to their devices. Almost every smartphone OEM had to stop the rollout of the Android Oreo update due to unexpected bugs. As far as Lenovo K8 Note is concerned, some users have complained that they are facing camera lag after installing the firmware update while others have claimed that the notification LED has stopped functioning.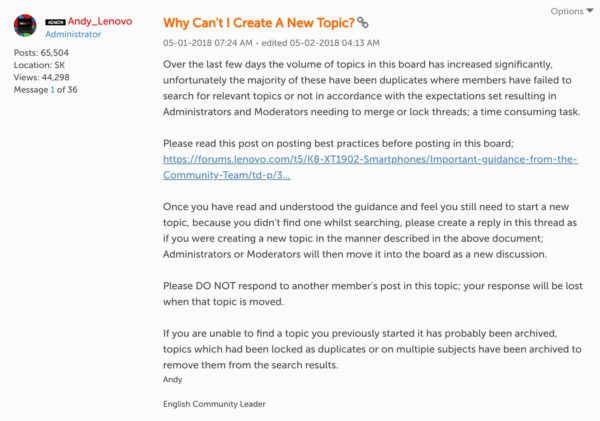 Read More: Another Lenovo Z5 Teaser Suggests That it Will Indeed Offer 95 Percent Screen-to-Body Ratio
Some are experiencing lag while accessing the systems apps such as call history in the phone app or the Settings app. Apart from system apps, those apps that have been installed through the Play Store are also working sluggishly even after reinstalling them. Some users have said that the device is heating up after the update and it is taking more time than usual to charge the phone. Some settings like the Dolby Atmos quick action has disappeared from the quick settings.
As of this writing, there is no confirmation from Lenovo on when it will be rolling out a stable Oreo update for K8 Note.