Multiple sources and leakster had claimed that Xiaomi would be holding an unveil event by the end of this month. Xiaomi has just confirmed that there will be a launch event on May 31. The Chinese manufacturer has also revealed that it will be announcing the Mi 8 as the company's 8th anniversary smartphone. Rumors have already revealed that the Xiaomi Mi 8 will be packed with advanced specs. A leaked image that seems to be taken from an internal presentation has appeared on Weibo. It has revealed the key features of the Mi 8 and the pricing of its two variants.
The below image shows that the Xiaomi Mi 8 is equipped with an under-display fingerprint scanner enabled 6.01-inch display. It states that the fingerprint scanner can instantly unlock the phone. The Mi 8 is also equipped with structured light 3D module for 3D facial scanning. The 8th anniversary phone is packed with other specs like Snapdragon 845, 6 GB of RAM and AI camera with 2x optical zoom support.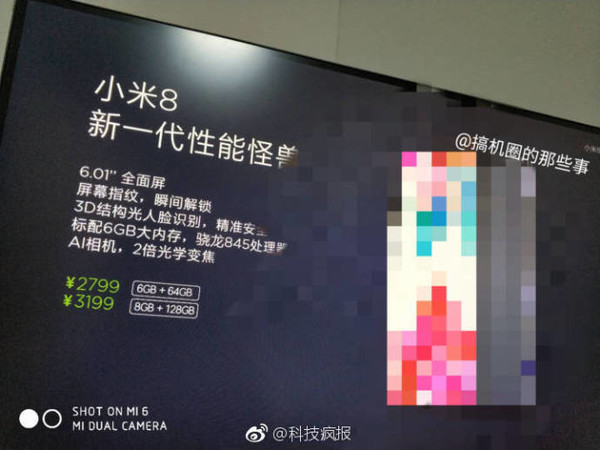 The starting variant has 6 GB of RAM and an internal storage capacity of 64 GB. It is priced at 2,799 Yuan (~$439). The higher model that has 8 GB of RAM and 128 GB of native storage carries a price tag of 3,199 Yuan (~$502).
There is an image of the phone on the right side, but unfortunately it is blurred out. However, the positioning the phone's image does not seem to align with the background which suggests makes us doubt on the credibility of this leak.
A new report has revealed that the two variants of the Xiaomi Mi 8 have received 3C certification in China and FCC approval in the U.S. However, there is no confirmation whether the two variants could be the 64 GB and 128 GB storage models of the Mi 8.
Read More: Alleged Xiaomi Mi 8 Front Panel Appears Alongside Another Mysterious Notched Xiaomi Phone
Yesterday, another leaked image of a Xiaomi presentation was spotted on Weibo which revealed that the Mi 8 would be coming in variants like 6 GB RAM + 64 GB storage, 8 GB RAM + 128 GB storage, 8 GB RAM + 256 GB storage and 8 GB RAM + 512 GB storage that are respectively priced at 3,599 Yuan (~$564), 4,099 Yuan (~$643), 4,499 Yuan (~$706) and 4,899 Yuan (~$768).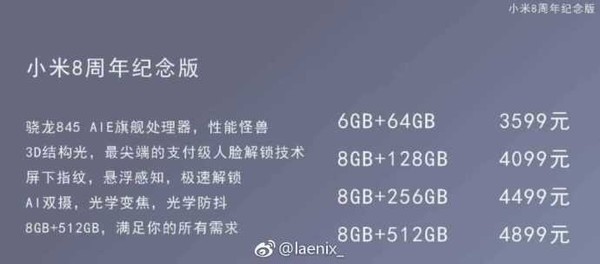 A Xiaomi executive has already confirmed that the above image is fake. Interestingly, the features mentioned in this leak matches with the newest pricing leak shown above.
(source)