Motorola Patents a Foldable Design That Fixes OLED Deformities Arising From Constant Opening
We are gradually losing count of the number of foldable phone patents that have popped up online. Digitimes recently speculated that we may likely see a couple of foldable phones launching this year with Samsung, Huawei and LG at the forefront of the innovation. Motorola has just joined the race with its latest patent. The tech giant has just been granted a patent that could fix any potential deformities.

The patent is that of a heat-based technology that allows the immediate repair of the flexible area when damaged. Despite OLED panels being flexible, the constant folding of the panel severally could ultimately lead to deformities in the flexible area of the panel. This deformity isn't necessarily permanent and only occur after regular folding of the display, but would ultimately affect the user experience. That is thus the reason for the adoption of the heat-based technology by Motorola. The patent was filed way back in 2016 but seems to have just been revealed. The schematics of the patented design details the presence of a hinge that would include a temperature sensor and a heating element that can be activated in order to increase the temperature of the OLED panel around that area and allow the display to return to its usual position whenever a deformity is registered.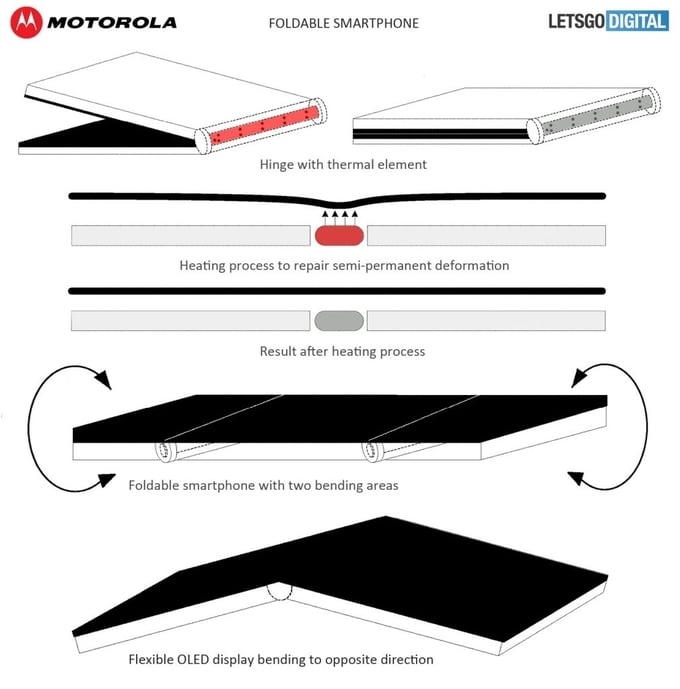 The design also includes a special module that tracks if the display is folded or not. There is also a backup battery which powers the module so that it can keep the record of how long the panel has been in the folded position even when the device is switched off. Once it surpasses the predefined time limit, the smartphone display will then automatically enter recovery mode as soon as its unfolded.
Read Also: Samsung Galaxy S10 Likely to Launch in Jan 2019; Foldable Phone May Get Showcased at MWC 2019
We are yet to see a working prototype of a foldable phone by Motorola. The company is also yet to disclose if it has any plans to release a foldable phone like Samsung next year. With this patent, though, we should be looking forward to one in the near future
(source)