Huawei's Upcoming Flagship May Offer Highest Screen Space with New Display Design, Reveals New Patent Filing
by Anvinraj Valiyathara ago0
In the previous week, a South Korean publication had reported that Huawei is a developing a smartphone with a 6.9-inch OLED display. It was also reported that Samsung Display will begin the full-fledged production of the massive sized OLED panels by the end of Q3 and it may be seen on a Huawei phone arriving in Q4 this year or Q1 2019. Hence, it was speculated that the 6.9-inch OLED screen Huawei phone could be the forthcoming Mate 20 Pro. A recently approved patent filing has revealed the marvelous display design that Huawei may employ on its upcoming flagship phone.
On Feb. 5, Huawei had applied for a patent with a title of "Mobile Communications Device" with United States Patent and Trademark Office (USPTO) and World Intellectual Property Organization (WIPO). The patent that was recently approved on June 7 belongs to a full screen design smartphone with a rectangular housing.
The patent description states it is difficult to design a smartphone with extremely slim bezels using the current frame technology. Hence, Huawei engineers have decided to employ an alternate method which makes use of metal strips instead of the regular frame.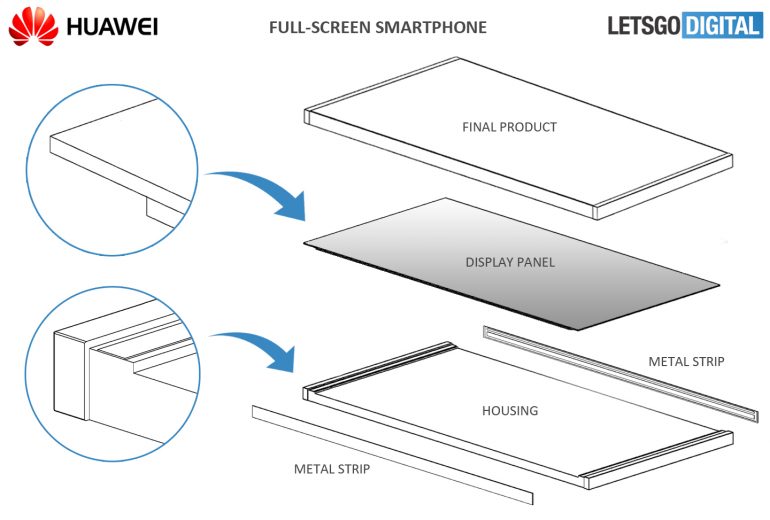 The metal strips are glued to housing of the device by using double-sided adhesive tape or glue. It is done in such a professional manner that it makes the device waterproof, dustproof and anti-static. The touchscreen that has recessed portions on the top and bottom is placed in the housing as seen in the above image. The resultant smartphone has non-existent sides bezels and very slim bezels at the top and bottom.
The patent documents also state that there is an operating button which can be seen in the above illustrations. The patented technology can be not only used on a smartphone but also on a tablet. A smartphone feature such a design will allow it to sport a bigger display with a higher screen space inside a body that could be similar to the Vivo NEX in dimensions.
Read More: Patent War: Data Shows A Surge in Huawei, OPPO and Other OEM's Approved Patents In May 2018
So, could this design be made available on the Huawei Mate 20 Pro that is expected to feature a 6.9-inch OLED screen? There is a possibility that the Chinese manufacturer may make it available on a more premium phone which could be the next Porsche Design Huawei phone.
What do you think about Huawei's new patent? Share us your views by adding your comments below.
(via)