Meizu 16 and 16 Plus leaked with in-display fingerprint reader, different bezels thickness
by Michele Ingelido ago0
Meizu 16 and 16 Plus are set to be unveiled in late August as the most impressive Meizu flagships of the year. Today, a new photo leaked on Twitter shows us a part of the front panel of the upcoming top-end devices, and it lets us notice important details about its display. First of all, the two devices shown in the photo have a slightly different design. We suppose that the one on the left is the Plus version as it seems bigger and it has a narrower bezel on the lower part, while the one on the right should be the standard version.
It is easy to notice the presence of an in-display fingerprint reader on the alleged Plus variant as there is a fingerprint icon on the display. Meizu 16 and 16 Plus have a sleek metal frame which houses a USB Type-C port and two grilles, probably one for the speaker and another for the microphone. At least on the Plus variant, bezels seem to be narrower than the Galaxy S9 line-up and this matches with recent declarations of the company's CEO and founder Jack Wong. Given the presence of an in-display fingerprint reader, it is kinda sure that the Meizu 16 Plus will feature an AMOLED display as this technology only works with OLED panels.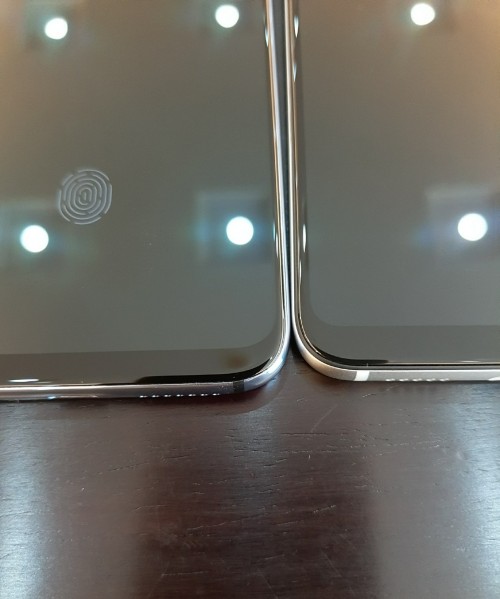 Even though they will have narrow bezels and their screen-to-body ratio will be high, the two devices will not feature a notch but a classic 18:9 panel. Under the hood, both Meizu 16 and 16 Plus will sport an octa-core Snapdragon 845 SoC, the best chipset by Qualcomm which can run at a max frequency of 2.8 GHz. Recently, Jack Wong has implicitly hinted at the fact that the most powerful version of the new flagships will not cost more than 4000 Yuan, which roughly translates into $514 at the actual change.
(via)