Meizu has released the first official launch poster of the upcoming Meizu 16 series. It confirms that the Meizu 16 will go on official on August 8. It is very likely that the Meizu 16 Plus may also get unveiled alongside it.
The launch poster showcases the front design of the smartphone. The image shows that the handset does not feature a notch like the recent flagship phones from other Chinese smartphone OEMs. The upper bezel is slim with an earpiece on its top edge. It also houses a selfie camera. The bottom bezel appears to be of equal size. The bezels present on either side of the display are quite thin.
The impression of the fingerprint on the bottom portion of the display is clear indication that it will be Meizu's first phone with in-display fingerprint scanner. The poster of the Meizu 16 also states that Snapdragon 845 SoC will be present inside it and it will also feature mBack.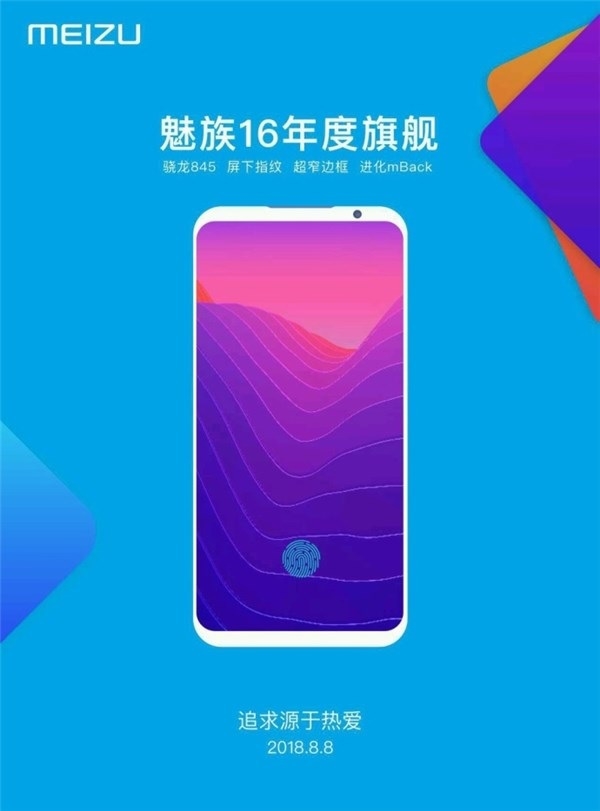 The company is yet to reveal the rear design of the Meizu 16. However, it is very likely to house a dual camera setup on its back. Other poster shown below states that the Meizu 16 is now available for reservations.
Recent reports have revealed that the Meizu 16 and Meizu 16 Plus will be arriving with Super AMOLED screens supplied by Samsung. The 18:9 aspect ratio displays on both smartphones expected to deliver a very high screen-to-body ratio. The Snapdragon 845 SoC is also expected to power the larger Meizu 16 Plus. These phones are expected to be available in 6 GB and 8 GB RAM options.
A recent report has revealed that the Meizu 16 duo will be equipped with AI Super Camera with Sony IMX380 sensor and bass-enabled stereo speakers. The report also claims that it is the thinnest device among the recent flagship phones as it measures 7.3mm in thickness and it weighs 152 grams.
Read More: Meizu 16 primary camera features a 12MP sensor with f/1.8 aperture
It is speculated that the Meizu 16 featuring 6 GB RAM + 64 GB storage, 6 GB RAM + 128 GB storage and 8 GB RAM + 128 GB storage are respectively priced at 2,399 Yuan (~$399), 2,699 Yuan (~$356) and 2,999 Yuan (~$445). On the other side, the Meizu 16 Plus is expected to feature 8 GB of RAM on its 128 GB and 25 GB storage models. Both the models are rumored to be respectively priced at 3,299 Yuan (~$489) and 3,599 Yuan (~$489).