We are a few weeks away from the launch of the Galaxy Note9, so it shouldn't come as a surprise that there will be new leaks surfacing on the web. However, while some may be genuine, there will also be fake ones. A video has surfaced online and it shows the Galaxy Note9 getting unboxed. However, this unit is likely a fake.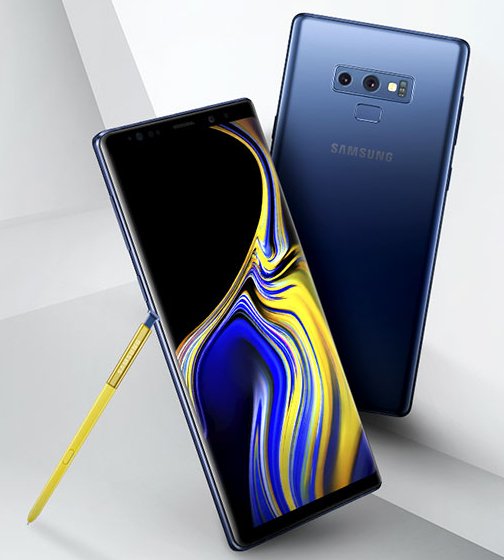 The phone comes in a similar box as other Samsung flagships with the only difference being the specs of the phone and of course, the name of the device. On the rear of the sleeve, the specs are listed out.
It says the Galaxy Note9 has a 6.3" Quad HD+ sAMOLED display and measures 160.5mm (full rectangle). It also has Dual Pixel 12MP OIS + 12MP OIS rear cameras, an 8MP AF selfie camera, IP68 water and dust resistance, and an iris scanner. The variant in the box has 6GB of RAM and 64GB of built-in storage. It also supports wireless charging and comes bundled with AKG earphones.
Plastered on the front of the phone is a sticker that reads "Galaxy Note9". The device isn't turned on so we don't get to see the UI. On the back, we can see the dual rear cameras, a LED flash, and a blood pressure sensor. There is also a fingerprint scanner below the setup. Samsung's logo is inscribed in the middle, and at the bottom, there is Galaxy Note9, a CE marking, and other info such as where the phone was made. In this case, this unit was manufactured in Vietnam. Other items included in the box are a charger, two USB-C adapters, a pair of earphones, and a USB cable.
So how do we know this is fake? First, the sleeve case says this is a T-Mobile unit judging from the sticker at the bottom of the box's outer sleeve. That sticker isn't unusual but for Samsung phones sold by T-mobile, the box usually has T-Mobile written on it not just a sticker. For the Galaxy Note8, T-Mobile's logo is printed on the back of the sleeve case where the specs are written and also on the sides.
READ MORE: Galaxy Tab S4 ditches fingerprint scanner for Iris Scanner and Intelligent Scan
Another thing is the accessories, actually the charger. The included charger in the box is not the type bundled with phones sold in the US. Other red flags are the sticker on the front of the phone and the markings at the bottom of the phone (usually doesn't exceed Samsung's logo and the model).