Xiaomi Mi A2 listed on two popular online retail stores for pre-orders ahead of launch
The Xiaomi Mi A2 is making lots of waves and causing uproars days before its launch. Recall that a detailed hands-on video of the device which was later taken down was released a month before Xiaomi even scheduled the launch event. Days ago, the smartphone has been seen in different online stores all over the world. The device was first seen in an online store in Poland, then it was later caught in Romania and just of recent, it has been listed by a Chinese and UK online stores for pre-order with awesome price tags.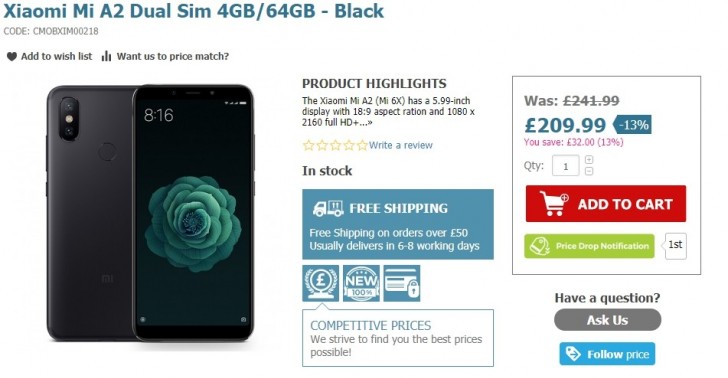 On July 24 which is just a day from now, the Chinese OEM would be holding an event in Spain, and the Xiaomi Mi A2 alongside a new Mi A2 Lite variant would be launched.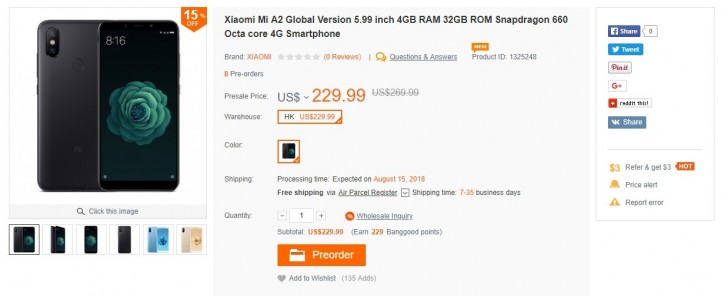 Related: Xiaomi Mi A2 will come in a Lite variant with a more affordable price
Interestingly the launch date didn't stop the online stores in placing the device up for sale and so far, the Chinese and UK store offers the best deal in terms of price tags on the device. Both stores indicated that the 4GB/64GB memory configuration is available for grabs with UK eGlobal Central attaching a price tag of £209.99 ($276) (13% down) while Banggood the Chinese online store is offering the product for as low as $229.99 with 15% off. You can check them out using the source links.