Huawei dominates China smartphone market in Q2 2018 with 27% shares – Canalys
Canalys has released its statistics detailing the second quarter performance of the vendors on the Chinese smartphone market. The data shows the market made some tremendous progress when compared to the Q1 2018 performance. Recall that an earlier report by Canalys which captures the shipment for the first quarter of 2018 had revealed that the Chinese phone market slumped by 21% year on year. However, the market rebounded in Q2 but is still down by 8% YoY as the entire vendors shipped 104 million units compared to 113 million shipments recorded in Q2 2017.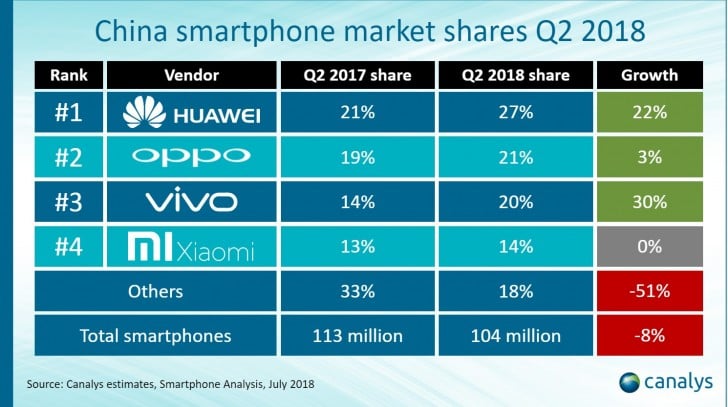 There are quite a number of other positive things to take away from the report, though. One of them is the performance of Huawei in the market. The company is blazing through the tide with a total shipment, estimated anyway, of 28.5 million. This represents a record 27% share of the market which is unprecedented. Huawei's performance for Q2 is also ahead of the 21% growth recorded in Q2 2017 and so, represents a 22% growth. The report also revealed that the Honor brand accounted for 55% of Huawei's Q2 2018 shipments, up from 33% a year ago. This means that Honor is the biggest lineup in Huawei's portfolio successfully challenging Xiaomi in the budget/mid-range segment, while also successfully launching its first $500 flagships.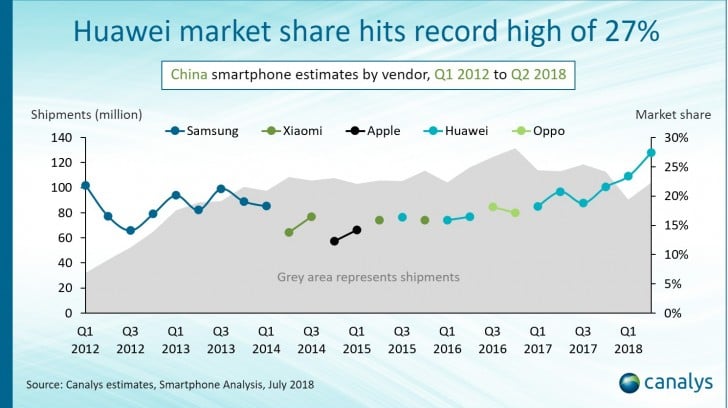 Read Also: Chinese Phone Shipment Slumps To Its Lowest Level Since 2013
BBK Electronics-owned companies OPPO and Vivo occupy the second and third place respectively. While OPPO grew just 3% YoY,  Vivo raked in enough sales to post a 20% market share with 30% growth year-over-year. Xiaomi maintained its solid run from last year with a 14% share to occupy the fourth spot while Apple completes the top 5. Despite the growth, the report predicts that the Chinese market will continue to decline towards the end of this year. The smaller vendors will take the hit harder as they struggle to sustain volumes.
(source)