Meizu X8 listed on JD.com with Mi logo!
Chinese e-commerce giant Jingdong today released the Meizu X8 pre-sale test page with an unrealistic price tag of 6666 yuan. The price tag isn't much of a surprise as it only shows the price tag is yet to be pegged. The most interesting aspect of the listing is the presence of the Mi logo on the veiled image depicting the X8.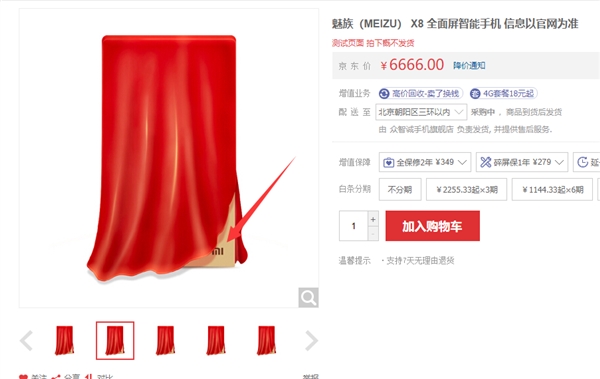 This is likely an error by Jingdong and nothing more but it readily brings to mind the claim by Meizu CEO Jack Wong that the Meizu X8 would be way better than the Xiaomi Mi 8 SE. The X8 is expected to pack a Snapdragon 710 chipset just like the Mi 8SE.  He left off without elaborating on the claim. That perhaps has nothing to do with the Mi logo on the product page. By the way, the page has since been removed.
Read Also: Meizu X8 with notched display, Snapdragon 710 appears in leaked shot
The Meizu X8 joins the Meizu 16 and 16 Plus which were earlier listed for 9999 yuan. Despite the prices of the models not been revealed, the listing seems to suggest that the Meizu X8 will have a price that is two-thirds that of the flagship Meizu 16 and 16 Plus.
(via)