There is a chance we will be getting two Mi MIX smartphones from Xiaomi this year. The first is the Mi MIX 2S which was announced back in March and the second which is said to be in development already is the Mi MIX 3.
The biggest change expected in the Mi MIX 3 is its design. A number of leaks have shown the device sporting a near bezel-less display. There are even rumors that Xiaomi may copy the pop-up selfie camera of the Vivo NEX.
Now a new rumor has surfaced saying the next Mi MIX smartphone will arrive on September 15. The info comes from an image that was shared on Weibo. The photo shows the lower half of the phone which is bezel-less, unlike its predecessors.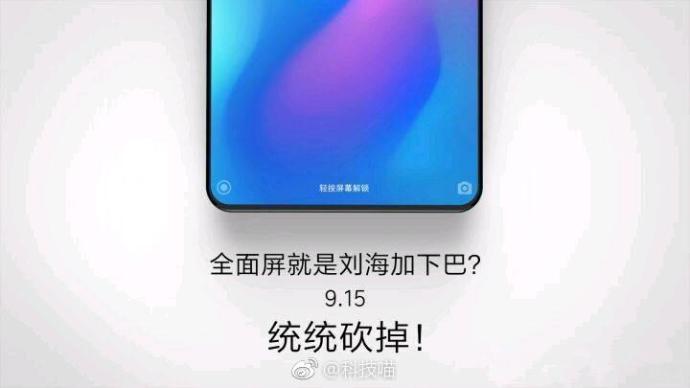 Apart from the date which is September 15, there are also two other captions. A rough translation of the first one is a question asking if a full-screen (display) is a combination of a notch and a bottom bezel while the second caption translates into "All cut off". We believe the second refers to all the bezels being shaved off but we are not so sure about the first.
The above launch date is still unconfirmed, so take with a pinch of salt. Nevertheless, a September release date isn't out of place. The Mi MIX 2 launched in September last year which means its successor is coming exactly a year later.
Not only that, if true, the Mi MIX 3 will be coming six months after the Mi MIX 2S which itself launched six months after the Mi MIX 2. Which prompts one to ask the question "Will Xiaomi refresh the series every six months?"
READ MORE: Xiaomi's upcoming PC is called the Mi Notebook Pro 2 and it may come with a GTX 1050 graphics card
Apart from the change in design, it should share a number of specs with the Mi MIX 2s, most especially the Snapdragon 845 processor. We also expect it to come with dual rear cameras.