Huawei is known for teasing the features of its new flagship phones before they are officially announced. Today, the Chinese manufacturer has released a new teaser to hint that the upcoming Mate 20 Pro would be equipped with a huge battery.
The below teaser shows that the Huawei P10 Plus that came in February 2017 featured a 3,750mAh battery. The Mate 10 Pro from October 2017 included a 4,000mAh battery. The same-sized battery is also available on the P20 Pro smartphone that was unveiled earlier this year. The right side of the teaser shows that Huawei has been consistently increasing of the battery on its flagship smartphones.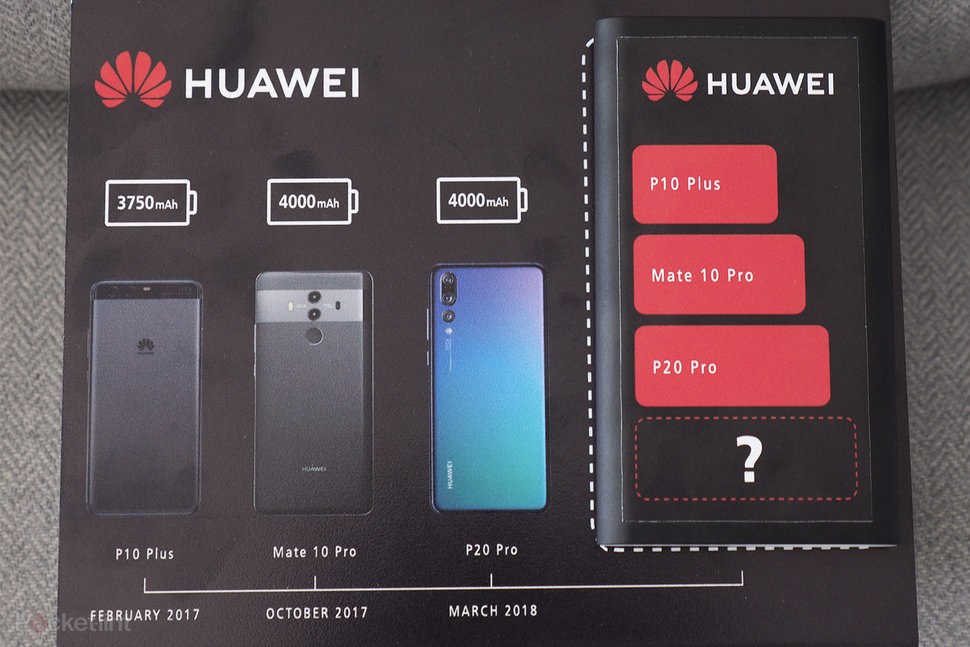 There is a blank spot at the bottom which suggests the user to guess on the battery size of Huawei's upcoming flagship phone. It hints that the Mate 20 Pro will be coming with the largest battery that the company has ever used in its smartphone. The older Ascend Mate 7 had featured 4,100mAh battery.
Read More: Huawei Mate 20 Lite full specifications leak reveals notched display, 4 cameras
In the previous week, XDA Developers had revealed through the leaked firmware files had revealed that the Mate 20 and Mate 20 Pro may arrive with 4,200mAh battery. Another leak had revealed that the Mate 20 duo will be carrying support for 40W fast charging.
The Mate 20 Pro is also expected to arrive with ultrasonic in-display fingerprint scanner. It is speculated that the Samsung Galaxy S10 arriving in early 2019 will be also featuring the same kind of fingerprint scanning technology. The Mate 20 Pro is also rumored to be equipped with 3D structured light module for 3D facial scanning. Hence, there is a possibility that the handset may feature a notched screen. It is likely to arrive with a massive AMOLED display of around 6.9 inches.
The Mate 20 Pro is expected to feature 40-megapixel + 20-megapixel + 8-megapixel triple camera setup engineered by Leica. It goes without saying that the Kirin 980 SoC that will be getting unveiled at the IFA 2018 at the end of this month will be driving force of the Mate 20 and Mate 20 Pro. The SoC is expected to deliver a maximum processing speed of 2.8 GHz. It will be preinstalled with Android 9 Pie flavored EMUI 9.0. T
(source)