Counterpoint's Global handset profit share ranking shows Apple as the most profitable brand!
Just about two months back, the media was buzzing with news that Chinese smartphone giant Huawei had beat Apple to claim the number two spot in terms of market share in China. That, no doubt, was a feat worth celebrating from the standpoint of Huawei. But right now, it is time to separate the wheat from the shaft. Counterpoint has now released its latest research finding on the Global handset profit share for Q2 2018.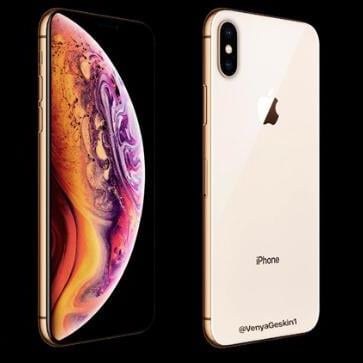 The report covers handset profit for the various brands for the month of April to June. Global handset profit is shown to have grown 4% annually in Q2 2018and this is mainly due to Chinese brands, which were aggressive with their flagship offerings. The combined profits from the various Chinese brands crossed US$ 2 billion for the first time, contributing to almost a fifth of the total handset profits.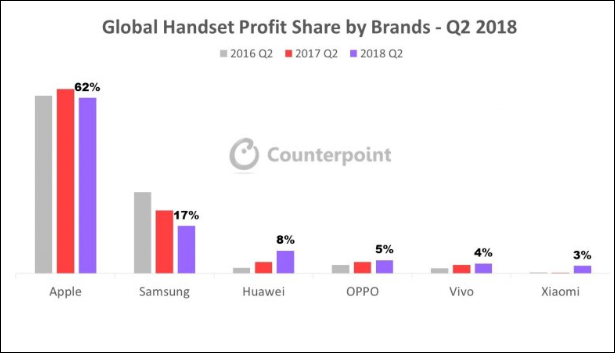 Apple emerged as the most profitable brand in Q2 2018 with 62% market share. This is more than the cumulative profitability of all the other brands combined, including Samsung. Apple is closely followed by Samsung with a 17% profit share of the market. This is despite Samsung's position as the number one smartphone vendors in terms of the number of units sold. Samsung's profit share actually declined by 21% when compared to the same period last year. This is attributed to a weaker than expected sales of the Galaxy S9 series. The rest of the pack is occupied by Chinese brands. Huawei is at the number three spot with 8% market shares, OPPO at number four with a 5% market share. Fellow BBK brand Vivo occupies the fifth spot with a 4% market share. Finally, Xiaomi is in the sixth spot with a 3% share of the market.
Read Also: Gartner's Q2 report affirms Huawei has surpassed Apple as the second largest phone vendor
Counterpoint estimated that the remaining 1% of the total industry profit was distributed among more than 600+ handset brands. Some of these brands may close shop as the research firm predicted that the smartphone volumes are likely to be flat as consumers are now keeping smartphones for longer. This will have implications for OEMs' revenue as OEMs are looking to maximize their profits by increasing their average selling price and entering new price tiers.
(source)