Xiaomi's first UK Mi store opening in London soon
Xiaomi is sure making headway in its drive to expand in Europe with recent entry to France, Spain, Italy among others. U.K will soon become the next port of call for the Chinese tech giant. Recently, an ad for a Store Manager for a Xiaomi retail store that would be located in a large shopping center in Westfield, London was spotted online. The ad clearly stated that Xiaomi was aiming to launch its first UK flagship store in London.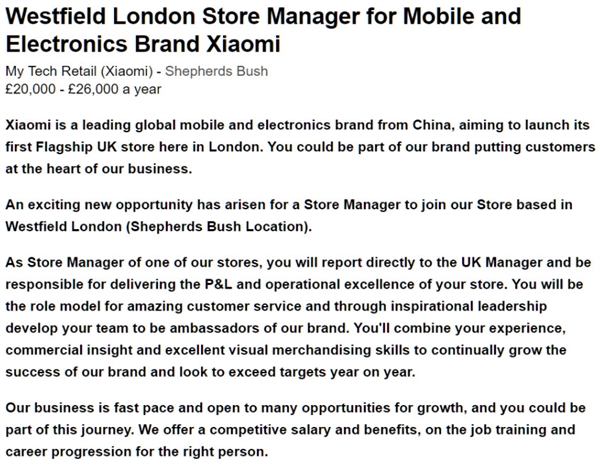 Related: Xiaomi opens world's largest Mi Home store in Wuhan, China
In the same light, Xiaomi UK tweeted it first tweet on Monday. The tweet did not reveal anything about a debut date but it clearly confirms the impending entry of Xiaomi into the UK market. The launch will a big boost for the company and we expect other cities to follow. No date has been revealed for that yet but we'll keep you updated when it happens.
(source)
Hello UK! #myfirstTweet

— XiaomiUK (@XiaomiUK_) October 1, 2018