Google Pixel Mini code-named Bonito spotted on GFXBench
There are speculations that Google will launch a Pixel Mini alongside the Pixel 3/XL which are expected to launch on October 9. The tech giant had released a teaser on its Instagram page a couple of days back talking about the Pixel Mini. Here's what Google said; In the post, Google said, "We've heard rumors of a mini Pixel. Which begs the question how "mini" is too mini? We have a feeling the next one will be a bit bigger than this. Tune in on 10/9 to see for yourself."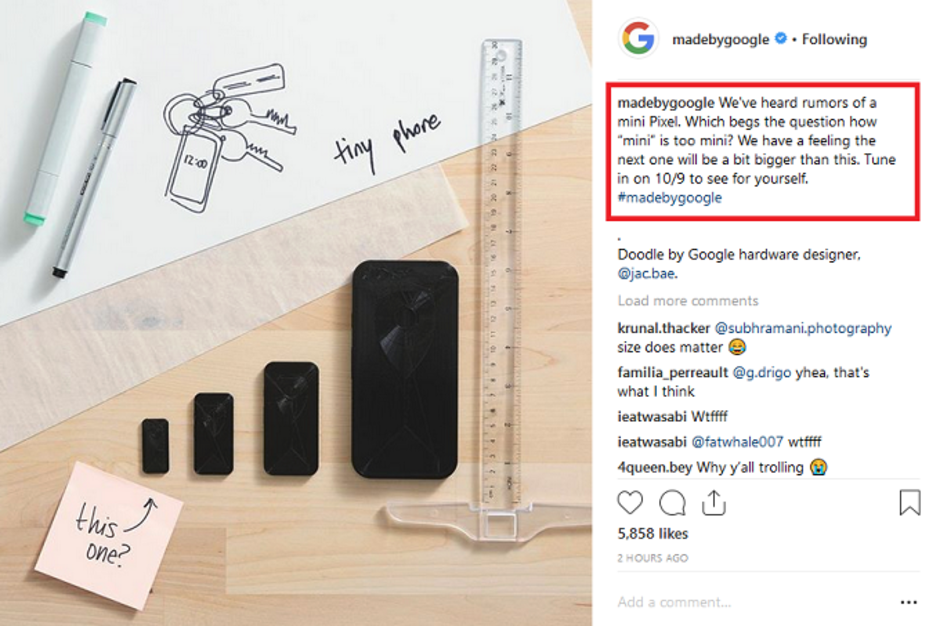 The statement doesn't really confirm its existence but fuels earlier speculations about its existence. A device suspected to be the Pixel Mini has been spotted on GFXBench. According to popular tipster, Roland Quandt, someone has been testing a Google phone with the code name "Bonito," on GFXBench. The phone is reportedly powered by the Snapdragon 710 Mobile Platform. This could be the Pixel Mini as "Bonito" is the name of a small fish that is a relative of the Tuna.
Someone has been testing Google "Bonito" with GFXBench lately. Make of this what you will. And HMD "Phoenix" is coming soon. I think that's Nokia 7.1 Plus, while "Rooster" (aka ROO) is Nokia 7.1. (big bird, small bird, you know…) https://t.co/G95tIm1EN1

— Roland Quandt (@rquandt) October 3, 2018
There is no other detail about the device, so we'll have to wait until the Made By Google event to find out if the device is actually in the works. The event will start rolling at 11am ET (8am PT, 15:00 GMT) on October 9th. You can watch the Livestream of the event via the Made By Google Instagram page and YouTube channel.