OnePlus 6T will pack an optical in-display fingerprint reader
by Simran Singh ago0
OnePlus 6T is just a few days away from the official launch on October 30th. Ahead of its official launch, OnePlus is revealing some new information about its in-screen fingerprint sensor. The Chinese company took to Weibo to announce some details about the OnePlus 6T's fingerprint sensor. The new device will feature an optical in-display fingerprint reader which brings higher accuracy and faster response times than the sonic based sensors.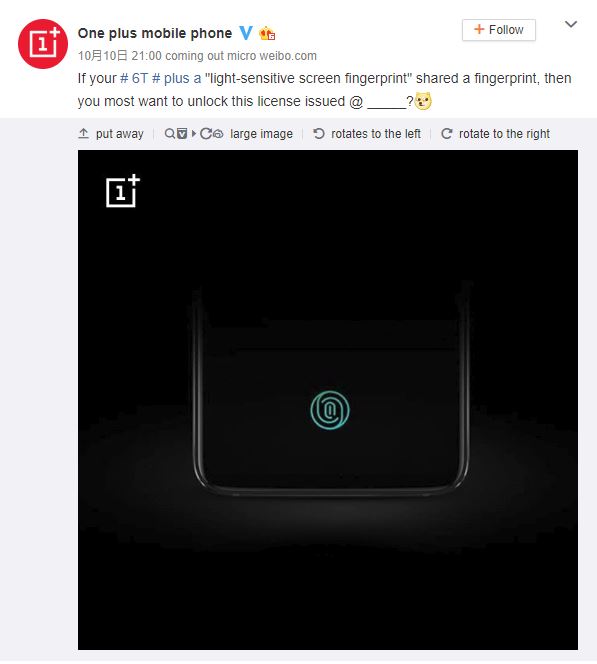 Rather than just confirming about the in-screen fingerprint on OnePlus 6T, the Chinese firm has also provided some information about its fingerprint module. The optical sensor functions in a much better way than the sonic sensors but currently it's new and is not adopted by various manufacturers. Vivo has used a similar optical-based sensor on Nex S, but it has not received excellent reviews. So, it would be interesting to see how OnePlus uses the same technology to get better results.
Despite being under the same parent company – BBK International, Vivo and OnePlus operate on a very different philosophy and aims. So, we can't compare the Vivo Nex S performance or features with the upcoming OnePlus 6T. There can be different software optimizations or tweaked fingerprint reader on OnePlus 6T which can result in improved accuracy and faster response times.
OnePlus 6T Specs
Additionally, OnePlus 6T will carry a Qualcomm Snapdragon 845 SoC with 6/8GB of RAM modules. It will host a waterdrop display with an in-screen fingerprint sensor. Unfortunately, there won't be a 3.5 mm audio jack onboard the device. There will be a 3700 mAh battery with fast charging technology. Also, OnePlus 6T is expected to ship in a new retail box packaging. OnePlus giving away a free gift to users who will book OnePlus 6T from Amazon India in the next few days.