Soon after announcing the Huawei Mate 20 series of flagship phones through the Oct. 16 London launch event, the Chinese manufacturer confirmed that it will be announcing its newest flagship phones in China on Oct. 26. A new leak that has surfaced on Weibo suggests that the entire expect for the Mate 20X gaming smartphone and the premium Mate 20 RS Porsche Design phone, Huawei will be releasing only the other Mate 20 devices in China. The leak has also revealed the pricing and color variants of all the Mate 20 phones that will be hitting the home market.
The leaked image shown below states the Mate 20 that will carry a price tag of 4,299 Yuan (~$619) will feature 64 GB of storage and 6 GB of RAM. The Mate 20 Pro that is priced at 5,299 Yuan (~$763) will be advanced version of the Mate 20 Pro as it will feature 128 GB of storage and the same 6 GB of RAM.
The Huawei Mate 20 Pro that was unveiled in Europe features an in-screen fingerprint reader. However, the Mate 20 Pro arriving in China seems to be equipped with a regular rear-mounted fingerprint sensor. The leak states that the more powerful Mate 20 Pro models will come equipped with under-display fingerprint scanner.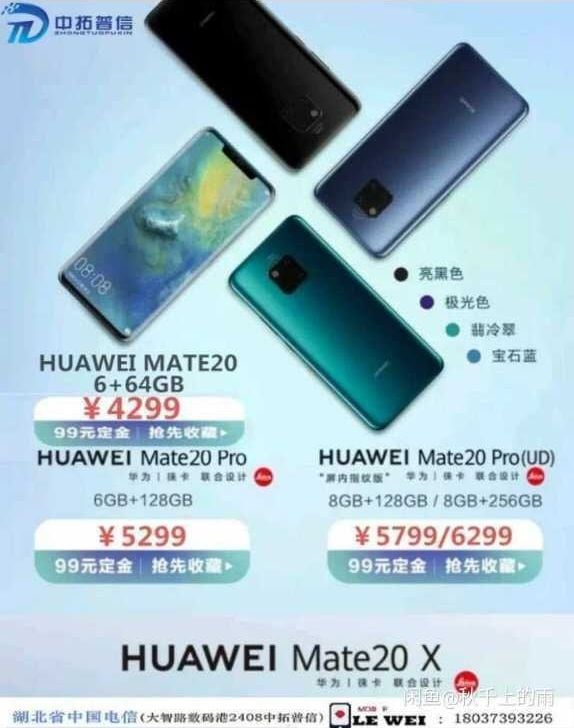 The leaked image further reveals that the Mate 20 Pro (UD) handset will be arriving in two variants. These include 128 GB storage + 8 GB RAM and 256 GB storage + 8 GB RAM. Both phones are respectively priced at 5,799 Yuan (~$835) and 6,299 Yuan (~$907). Both of these models will be arriving with an in-screen fingerprint scanner. These smartphones are expected to release in China in color variants such as Emerald Green, Midnight Blue, Twilight and Black.
In the Europe, the Mate 20 comes in two models namely, 64 GB storage + 4 GB RAM and 128 GB storage + 6 GB RAM. These models respectively cost 799 euros (~$916) and 849 euros (~$979). The Mate 20 Pro for Europe comes in a single variant that includes 128 GB of storage and 6 GB of RAM. It is priced at 1,049 euros (~$1,200).
(source)