Lenovo Z5 Pro vs Nokia 7.1 Plus vs Xiaomi Pocophone F1: Specs Comparison
by Michele Ingelido ago0
In a smartphones world which struggles to be innovative, upper midrange phones under €300 are slowly conquering the market as they allow saving money even though they provide amazing performances. Lenovo Z5 Pro was unveiled yesterday as the cheapest slider phone ever, and the fact that the company launched a so innovative device with upper-midrange specs should make you realize how much important midrange devices are now. In this comparison, we will compare it with Nokia 7.1 Plus (known as Nokia X7 in China) and Xiaomi Pocophone F1, two other upper-midrange devices with an awesome quality-price ratio.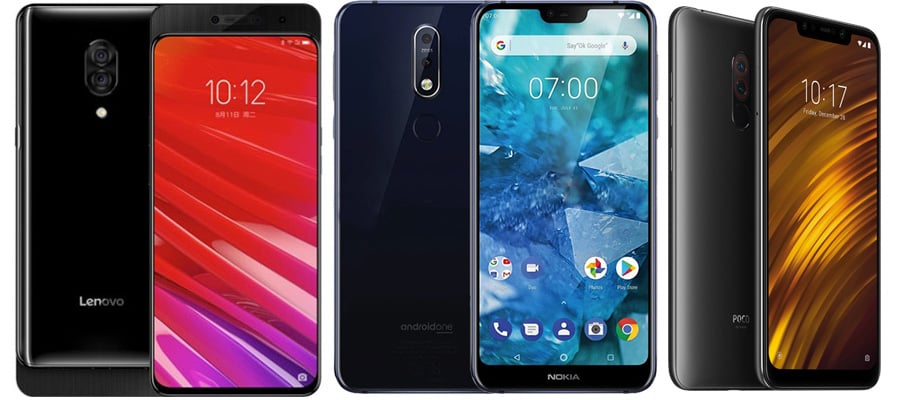 Lenovo Z5 Pro vs Nokia 7.1 Plus vs Xiaomi Pocophone F1
Lenovo Z5 Pro
Nokia 7.1 Plus
Xiaomi Pocophone F1
DIMENSIONS AND WEIGHT
155.1 x 73 x 9.3 mm
154.8 x 75.8 x 8 mm, 178 grams
 155.5 x 75.3 x 8.8 mm, 180 grams
DISPLAY
6.39 inches, 1080 x 2340p (Full HD+), 403 ppi, Super AMOLED
6.18 inches, 1080 x 2280p (Full HD+), 408 ppi, 19:9 ratio, IPS LCD
 6.18 inches, 1080 x 2246 pixels, 403 ppi, 18.7:9 ratio, IPS LCD
PROCESSOR
Qualcomm Snapdragon 710, octa-core 2.2 GHz
Qualcomm Snapdragon 710, octa-core 2.2 GHz
Qualcomm Snapdragon 845, octa-core 2.8 GHz
MEMORY
6 GB RAM, 64 GB – 6 GB RAM, 128 GB
4 GB RAM, 64 GB – 6 GB RAM, 128 GB – micro SD slot
 6 GB RAM, 64 GB – 6 GB RAM, 128 GB – 8 GB RAM, 256 GB – micro SD slot
SOFTWARE
Android 8.1 Oreo, ZUI 10
Android 8.1 Oreo, Android One
 Android 8.1 Oreo, MIUI 9.6
CONNECTIVITY
Wi-Fi 802.11 a/b/g/n/ac, Bluetooth 5.0, GPS
Wi-Fi 802.11 a/b/g/n/ac, Bluetooth 5.0, GPS
 Wi-Fi 802.11 a/b/g/n/ac, Bluetooth 5.0, GPS
CAMERA
Dual 16 + 24 MP f/1.8
Dual 16 + 8 MP f/2.2 front camera
Dual 12 + 13 MP f/1.8
20 MP f/2.0 front camera
Dual 12 + 5 MP f/1.9
20 MP f/2.0 front camera
BATTERY
3350 mAh
Fast Charging
3500 mAh
Fast Charging 18W
 4000 mAh, Fast Charging 9V / 2A (Quick Charge 4.0)
ADDITIONAL FEATURES
Dual SIM slot, slider design
Hybrid Dual SIM slot
 Dual SIM slot, infrared face unlock
Design
Probably you already understood which device wins the design comparison. It is the Lenovo Z5 Pro as it features an innovative slider design. Given that the front camera and sensors are included into a pop-up slider, the display reaches almost 100 percent of screen-to-body ratio without even needing a notch. It has a bigger display than its opponents even though its overall dimensions are not higher. At the second place, there is Nokia 7.1 Plus with its glass and metal design, while Xiaomi Pocophone F1 is definitely one of the less attracting devices because it has a classic polycarbonate design which the company opted for in order to cut costs.
Display
Lenovo Z5 Pro is again the winner when it comes to the quality of the display. It is the only to feature a Super AMOLED panel with richer colors, which also integrates an in-display fingerprint reader. Further, it does not have a notch and it is fully borderless: these qualities make it even more comfortable despite it is the biggest display of the trio.
Hardware & Software
Xiaomi Pocophone F1 wins the hardware challenge because it has a flagship-level hardware which has nothing to envy to the best phones in the market. It comes with a powerful Snapdragon 845 chipset and up to 8 GB of RAM, and it is the perfect smartphone for gaming and for the most demanding activities. Lenovo Z5 Pro and Nokia 7.1 Plus are at the same level with their upper-midrange hardware side, but only the latter has a micro SD slot. While Lenovo Z5 Pro and Xiaomi Pocophone F1 have customized UIs (ZUI an MIUI), Nokia 7.1 Plus is part of the Android One program with a stock UI and faster updates.
Camera
The camera department I like more is the one of Lenovo Z5 Pro with four cameras in total. But, at least on the paper, Nokia 7.1 Plus seems to have a better rear camera than Lenovo Z5 Pro, so consider this if you do not care so much about selfies. Xiaomi Pocophone F1 is the most disappointing one when it comes to cameras.
Battery
With the biggest battery boasting a capacity of 4000 mAh, Xiaomi Pocophone F1 surely has a much longer battery life than Lenovo Z5 Pro and Nokia 7.1 Plus. It is one of the longest lasting flagship phones and the battery is its main advantage alongside its processor.
Price
The device I would personally pick is Xiaomi Pocophone F1 with its €300/$342 global price (appr.), a wonderful hardware side, and a long-lasting battery. But if you care about having a good design and a great camera, then you should not grab a unit of this device and choose Nokia 7.1 Plus or Lenovo Z5 Pro instead, which carry a price tag of about €300/$342 and €250/$285 respectively (in China).
Motorola Moto G6 Plus vs Vivo V11 Pro vs Xiaomi Pocophone F1: PROs and CONS
Lenovo Z5 Pro
PROs
Slider design and high stb ratio
Nice hardware
Nice cameras
Best display
CONS
Nokia 7.1 Plus
PROs
Good hardware
Amazing cameras
Android One
Good battery life
CONS
Xiaomi Pocophone F1
PROs
Best hardware
Infrared face recognition
Affordable price
Big battery
CONS