Report: Global smartphone sales fell by 3%, Xiaomi and Huawei still on ascent in Q3 2018
by Simran Singh ago0
In a new report from Counterpoint, it is found that Global smartphone sales have fallen for the first time up to 3% in the Q3 2018. The global shipments of the smartphones have reduced to 386.8 million units. After growing by an average of 16% from the past five years, the smartphone market is witnessing a slowdown with 1% overall decline this year.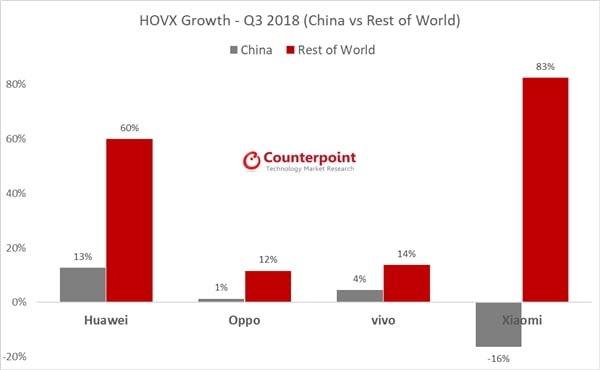 Many reasons can be cited as the root cause of the slowdown. Few of them are the slowing global economy, rising trade tariffs, rising price of phones, etc. Despite Xiaomi and Huawei, all other big brands such as Samsung, Apple, LG and others have witnessed a decline in sales.
"Many markets have already hit a saturation point for new smartphone demand and are dependent on replacement demand," Counterpoint research director Tom Kang wrote in the report. "Buying a more expensive device results in extending the length of replacement cycles, especially when your earnings are limited."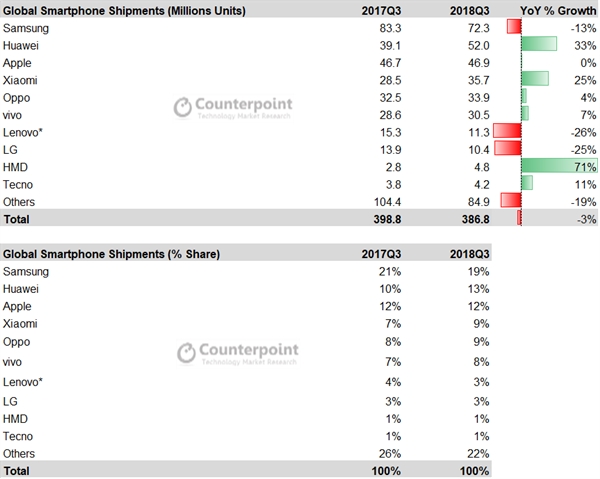 In total, Samsung shipped 72.3 million smartphones and ranked first, but it has declined 13% on the basis of year-on-year stats. Apple has maintained a steady increase of 0.1% in the total tally. Huawei, Xiaomi and HMD have witnessed considerable growth. Notably, Huawei shipments rose to 52 million units by 33% on the year-on-year basis. Xiaomi garnered 35.7 million sales with an increase of 25% on a YoY basis.
HMD global aka Nokia has increased its shipments volume by 71%. On the other hand, Motorola and LG both have witnessed a double-digit dip this year. Apple remained steady and sold 170.8 million iPhones which are half a per cent more than the last year.
Some brands are doing well in the international market rather than the domestic. In the same group, Xiaomi has registered a growth of 83% in the international market while it hit 16% in the domestic market.
We can say it's a mixed bag of ups and downs with overall sales fell by 3% this quarter.
(Via)