Report: Battery life has declined in the new smartphones than the old ones
by Simran Singh ago0
In the latest report from The Washington Post, it has appeared that the new smartphones have reduced the battery life upon their comparisons with the older counterparts. It is found that all the major manufacturer has reduced the lifespan of smartphone's battery rather than Samsung's Galaxy Note 9, iPhone XR and few other devices.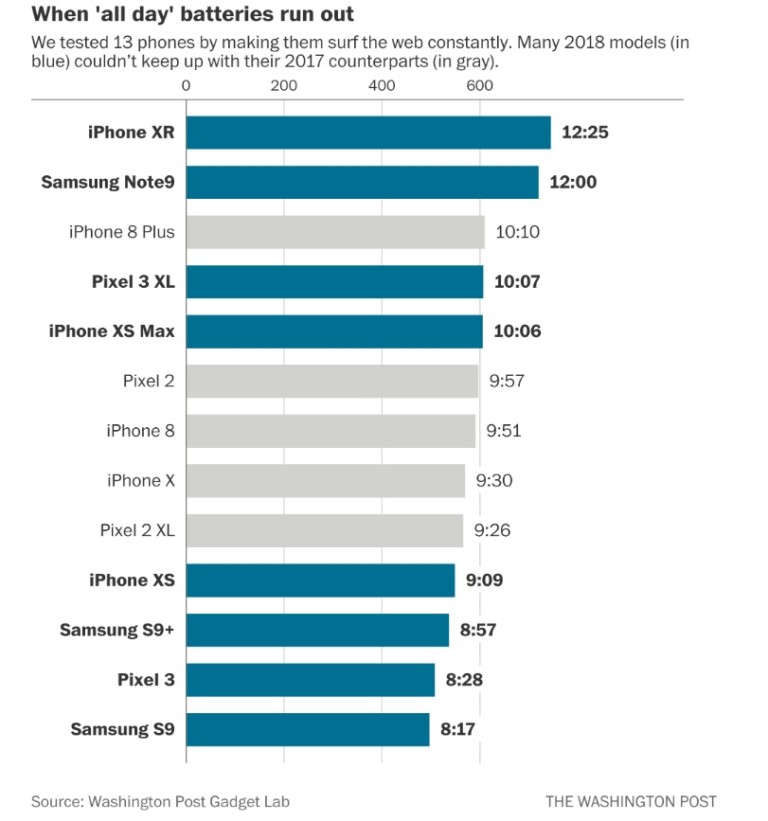 In a detailed battery life tests, The Washington Post journalist, Geoffrey A has found that the popular smartphones on both the iOS and Android ecosystem have witnessed an enormous decline in the battery life in comparison with their predecessors.
Geoffrey A conducted tests with the Google Pixel 3, Apple iPhone XS and Samsung Galaxy Note 9 and various other devices. He found that the Google Pixel 2 and Pixel 2 Xl fares well in the battery life test rather than the Pixel 3 and 3XL. Similarly, Apple iPhone XS missed comparison with the iPhone X. The Cupertino giant managed to perform well with the iPhone XR.
The high-end devices such as iPhone XR and Galaxy Note 9 did best in tests and managed to top the chart. Overall, it is found that devices which are larger have better battery life. In the chart above, you can see that some devices did well than older phones.
As apparatus, Geoffrey A used a light meter to measure the brightness level and a script to navigate websites from top to bottom automatically. Finally, he measured the time for how long it took for each device to drain fully. The chart above will give you all the details of every device.
Well, it is quite interesting to know that manufacturers are deteriorating the battery life with every new launch. We hope from now on, OEMs start learning ways to increase the battery life rather than just stuffing more and more battery capacity to the device.
What do you think? Did your device's battery life has performed worse than this? Share your views via comments below.