Samsung "attack" Apple on ads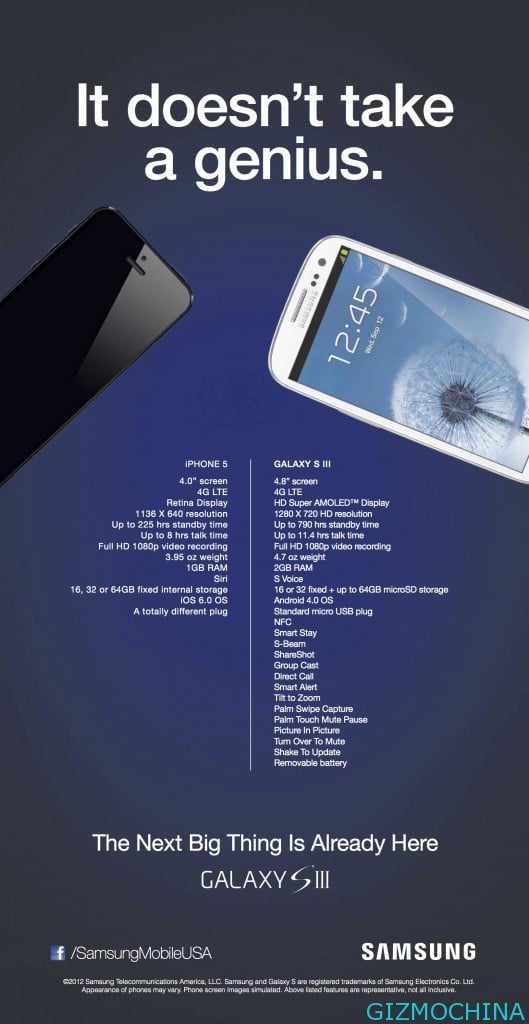 The battle between Samsung and Apple re-occur. After their dispute on court, Its now the dispute appears in advertisements.
In a recent advertisement that appeared in all the United States media, Samsung also conjures images of the Galaxy S III is juxtaposed with the iPhone 5. In the image ad, a company based in South Korea is also directly say that the features belonging Galaxy S III fuller and better than the iPhone 5.

Even in Samsung ads says there is no need to be a genius to pick the Galaxy S III. With these ads, Samsung says that the Android mobile phone has much better quality than the iPhone 5. In terms of screen size and other features of the RAM, the Galaxy S III has a better ability.
The headline of the ad reads "It doesn't take a genius" and follows up with a comparison of the specs of the iPhone 5 alongside the US variant of Galaxy S III.
In the U.S. market, it would be quite interesting to see increased competition both mobile phones. Previously, Samsung Galaxy S III has become the best-selling mobile phone in the United States. Meanwhile, the iPhone 5 has been flooded with orders even before the phone is available in the market.