64.2% 3G user in China use Android device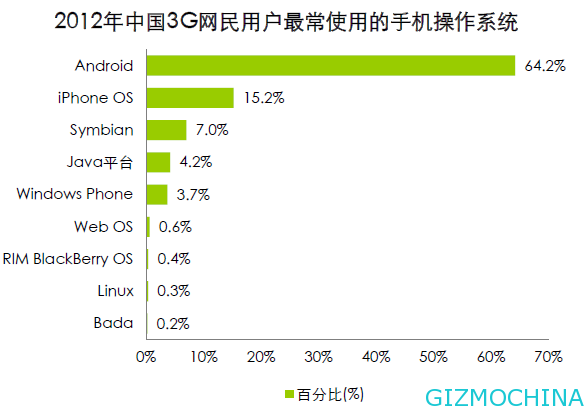 According to iResearch released the "2012 China 3G netizens user behavior research report shows, 64.2% of the China's 3G Internet users users using the Android system, the proportion with global smartphone operating system market Android accounted basic flat.

The report shows that accounted for 64.2% of Internet users in 2012, China's 3G users most commonly used Android mobile operating system in the first place, iOS accounted for 15.2%, while Symbian system accounted for 7.0%. According to Gartner data shows 2012 Q2 global smartphone operating system market, Android accounted for 64.1%, the iOS for 18.8% and the Symbian share already dropped to 5.9%.
Ereli analysis, the open source nature of the Android system and the expansion of the camp is the main reason for the rise in market share rapidly. Driven thousands of intelligent machines and smartphone prices continue to decline, the future of the Symbian share of the Chinese market will be further squeezed.
The report also pointed out that as of August 2012, China's 3G users has reached 192 million people, and 3G Internet users of mobile Internet users was mainly focused on the fragmentation time of 1-3 hours; Browse News 3G Internet users remove the instant messaging service, mobile Internet users behavior, accounting for 66.4%,
In addition, 3G Internet users monthly 3G tariff mainly between 50-100 yuan, accounting for 61.2%; the users proportion of more than 300 yuan monthly tariff of less than 3.5%, Ereli analysis, 3G tariff is still at a high level further spread of 3G to be lowered further tariff.