Mediatek chipset market increase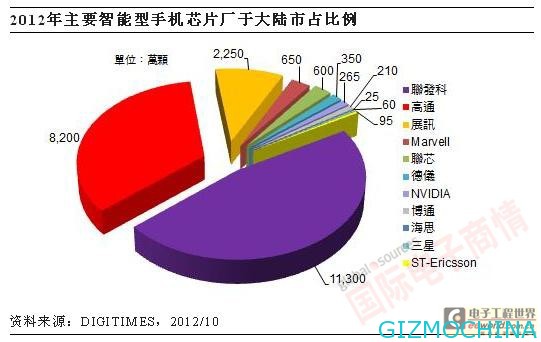 The report from Digitimes said that the sales of the domestic smartphone market in China growth this year has increased sharply, and this is far beyond the expectations of the market, this is due to the high intensifying the creation and contribution MediaTek Qualcomm chipset.
A review of the market conditions in 2011, when not many options on the market, and the integrity of the program is not too high, both branded and non-branded products in the mainstream R&D speed and price, essentially failed to meet market demand.
2012, the momentum for MediaTek, Qualcomm is also strong against QRD strategy, the rest of each provider supply multi-core chip to complete; coupled with improved overall performance, and substantial cost reduction program, greatly accelerating the design of mobile products. While the ecological situation in the mobile system, particularly in the Chinese market demand is increasing, and directly promote strong development of the whole industry.
Digitimes expected, the size of the Chinese smartphone chip market will be over 240 million in 2012. MediaTek shipments of 113 million occupies almost half of the country, topped the list. MediaTek president Xie Qingjiang has said that volume shipments of MediaTek achieved these excellent results, the main benefit from the rapid development of China's smartphone market, and its dual-core processor. He also said that over 35 million shipped in the third quarter, in fact, already more than the company previously expected. MediaTek shipments expected fourth quarter is expected to more than 40 million.
Is expected in 2012, Qualcomm chip market in China smartphone shipments of 82 million, ranking second. Spreadtrum by 22.5 million came in third. Marvell Leadcore respectively, 6,500,000 and 6,000,000 in the fourth and fifth.
However, China's smart phone market have become accustomed to price competition will become the biggest worry for. Although manufacturers to lower prices, expect to lift shipments as a means of revenue enhancement, but too many competitors in the market, the market can not indefinitely soaring, and thus the limited carrying capacity of sustained price war flame will inevitably do bad market, caused by the volume of high revenue not gone up horrendously, at the same time, can also exacerbate the market reshuffle, some manufacturers had to exit early.