Picture Comparison between Meizu MX2, Xiaomi MI2 and Oppo Find 5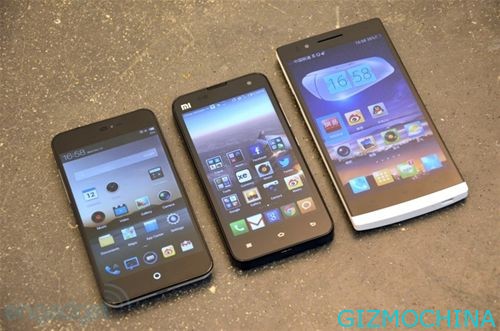 After we'have covered the news of Oppo Find 5 smartphone, we have a couple information regarding those phones, and now we have a couple picture comparison between Oppo Find 5, Meizu MX2 and Xiaomi MI2 Android smartphone.

Although 2012 will soon be over, as the last a domestic strong machine OPPO has made a big shock this year, since their unveiled the new Oppo Find 5 smartphone for global market. Packs with 5 inch screen with 1080P Full HD resolution, this technology will be more popular next year, the OPPO Find 5 will be launch on the market in 2013 to lay a solid foundation for it.
You can read our review article about Oppo Find 5 here. Oppo Find 5 is indeed equipped with flashy hardware, such as 1.5 GHz Snapdragon processor, 2GB of RAM and a 1,080 x 1,920 pixels screen resolution. This high definition screen has 441 ppi (pixels per inch).
As we mention in other article before, Oppo Find 5 also packs with 13 megapixel camera capable of recording 120 fps video. Meanwhile, there is also a 1.9 megapixel front facing camera.
The phone si running Android 4.1 Jelly Bean operating system. Given the specifications, it is difficult to find a rival smartphone on the market today. Oppo Find 5 will be marketed beginning 2013 not only in China, but also in the United States and most global market.