Foxconn built new factory in China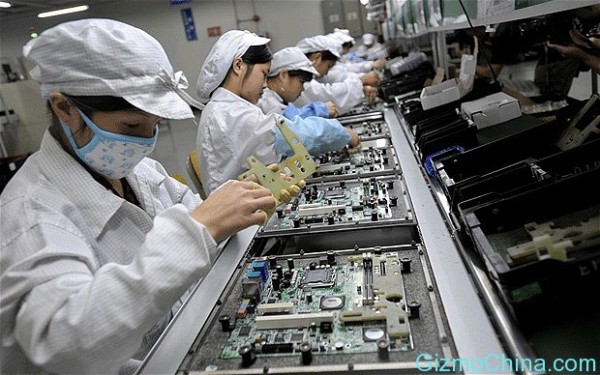 Foxconn Technology Group as a manufacturer of electronic components such as iPhone, iPad,  is opening a new factory in Nanning, Gungxi Zhiang, China. It is in the context of the expansion worth 5 billion yuan (or around USD $ 802 million).

The parent company of Foxconn, the Hon Hai Precision Industry Co Ltd has signed a memorandum of understanding with the local government to build a plant tablets and smartphones in the city. This is to grow the technology industry in one of China's cities.
"This investment aims to make Nanning to have the reputation of being the region with modern factories, commercial and logistics center," said Director of Foxconnn, Terry Gou.
However, the speaker of the Foxconn factory in Shenzen revealed invest plans will be announced at the Taiwan Stock Exchange, Hon Hai which lists the Taiwan stock exchange.
According to him, Shenzhen, Zhengzhou and Chengdu are the key to this company. Three of the city with a market share north, central and south.
Meanwhile, an official of Nanning city development, said Cao Xianjun electronics industry a top priority in the development of industry in the city of Nanning, China. Nanning city's economic strategic plan, keen to bring for Foxconn to invest.
"Electronics industry is clearly a priority in our economic plan," said Cao.
According to him, Foxconn will provide a win-win solution to bring its technology to Nanning in order to make better known the investors.
Foxconn is planning to invest to build a similar factory in Indonesia. By hook local companies, Foxconn initially planned to start production in December 25, 2012 and then, but was delayed for up to 6 months.
"3 to 6 months is, starting from now," said Industry Minister MS Hidayat.
Hidayat explained, there are terms and conditions that do not fit between the Indonesian government and the trigger delay Foxconn factory in operation.
"Foxconn delayed because their requirements are also somewhat different from our regulation. I can not say what the regulations is," he added.
He said another reason the Taiwanese manufacturer delay in operation due to be towed local partners still do not agree on the terms and conditions of this electronic component factory.
The plan, if the factory is in operation, the government requires that cooperating with local partners who will be making elektronics goods made in the country.