Performance disclosure of MT6592, competetive to Snapdragon and Tegra 4
by Shine Wong Jul 22, 2013 8:06 pm0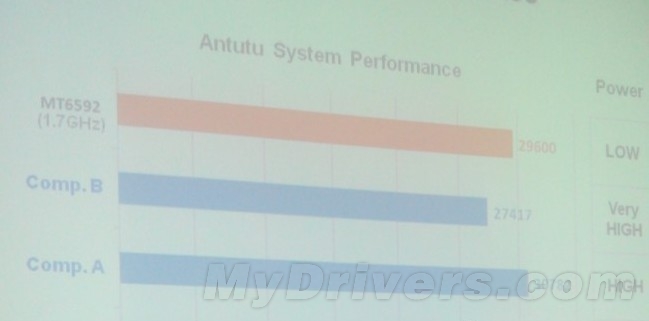 It was once rumoured that Antutu system performance of MT6592 was almost 3o,ooo. But now official information available is in line with previous rumours.
Judging from the above pic , it is clear that Antutu performance of MT6592 runs ahead of comp.B and comp.A with 30,000 marks and enjoys advantages in consumption.  What's more, according to MediaTek,  MT6592 with 2GHz will be appealing than this version with 1.7 GHz . It is eatimated that the Atutu performance of the former will be between 30,000 to 33,000.
Previous information shows that MT6592 applies 28 nanoprocess, integrates eight A7 processors and built in MALT quad-core graphic processor( model data unavailable), supports 1080p 30fps video decoder with latest HEVC/VP9 model (detailed data unavailable). But as most high-end products of MediaTek, MT6592 would support more apps. Balance betwwen performance and consumption is the priority considered by MediaTek, will MT6592 achieve this balance ? MediaTek will let you know soon with mass production of MT6592 with real octa-core in the end of this year .