HiSilicon's Kirin 930 revealed: Could it crush Qualcomm?
In response analyst Kong Changxu's argument that merely producing a good cellphone is not enough to cover up the company's vulnerability in the industry, and that they can only enjoy using a manufacturing process that is inferior to those used by foreign manufacturers.
A Weibo user, @建华Wei业 disagreed saying that Huawei's new processor, the Kirin 930 was made using a 16nm manufacturing process similar to that of Apple's A9 processor with some differences in the workmanship.
The Kirin 930 used the 16nm HiFET manufacturing process while the Apple A9 used the 16nm FinFET. The former is the process used by Huawei and the Taiwan Semiconductor Manufacturing Company. It looks like the process was thought of just for the Kirin 930.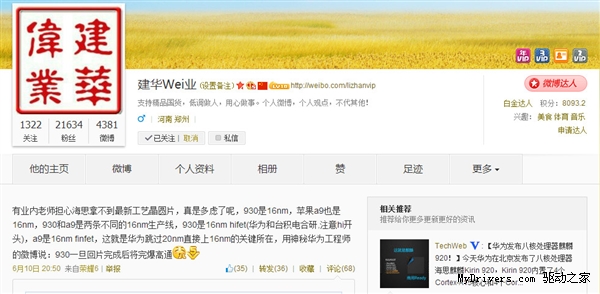 Since Qualcomm's flagship chips are only made using a 20nm process, then if Huawei skipped the 20nm stage and went straight for 16n, then it could be said that they surpassed Qualcomm. However, there's no way of knowing whether @建华Wei业 is correct.