Detailed comparison between HTC One M8 and Xiaomi Mi4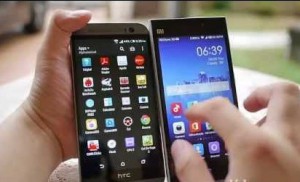 HTC One M8 and Xiaomi Mi 4 are both great phones. We compared these 2 on the main factors as mentioned below:
Aesthetics:
Both bold, metallic looking handsets feature 5.0-inch display with exceptional screen resolutions of 1,080 x 1,920 pixels and 441ppi pixel densities. While HTC uses Super LCD3, Xiomi has a Sharp/JDI OGS full lamination display. Talking about the exteriors neither of these phones are dust/water resistant.
Thickness and weight of the Xiaomi is 0.35inches and 149g respectively while the HTC is 0.37inches thick with a weight of 160g.
Hardware and Software:
Both the Mi4 and One M8 have quad-core Krait 400 processors as their primary power source. However, Xiaomi is measured at 2.5 GHz in comparison to HTC's 2.3. Similarly, the Mi4 has 3GB of RAM while the One M8 provides only 2GB. Additionally, HTC uses Android v4.4.2 KitKat OS with HTC Sense 6 UI while Xiaomi has Android v4.4.3 KitKat OS with MIUI 6 UI.
Memory:
Xiaomi's handset internal storage provides 16GB and 64GB, considerably more than HTC's 16GB and 32GB. Conversely, the One M8 has up to 128GB of expandable memory while the Mi8 does not support microSD.
Battery and Camera:
Xiaomi's Mi4 has a rear facing 13 MP cameral with dual-LED flash while the One M8 has a 4 UltraPixels camera with the same features. Additionally, the HTC camera has two lenses to provide better pictures while the Xiaomi outpaces it with an 8MP camera compared to HTC One M8's 5MP camera. Xiaomi also trumps HTC with its ability to shoot 4K videos while the HTC cannot.
Xiaomi's Mi4 has a Li-ion 3080 mAh battery while HTC has only a Li-Ion 2600 mAh. Neither battery units are user-replaceable.
Color, Connectivity and SIM:
Wi-Fi 802.11, Wi-Fi Direct, Wi-Fi hotspot, Bluetooth v4.0, infared and microUSB ports and NFC support are provided by both phones. The HTC handset backs nano-sim while Xiaomi's backs micro-sim.
In addition to this, the HTC One M8 is available in grey, gold and silver variations while the Xiaomi Mi4 comes in just 2 colours – black and white.
Price:
The 16 GB HTC One M8 is priced at AU$649.95 in Australia whereas the Mi4 is costs AU$482. The handset can now be purchased in Oppsmart as well as from Xiaomi World for approximately ten addition dollars.