Mogu M7, which is said to use the MTK6595 LTE chipset, goes on sale for 1399 RMB (228.10 USD)
Moguphone which, last year, released the 399 RMB (65.06 USD) M6, recently released its follow-up. The Mogu M7, which is now on sale, uses MTK's newest processor, the MTK6595 LTE octa-core chipset.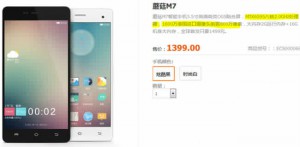 The M7's hardware is pretty standard for cellphones like it. It sports a 5.5-inch FHD screen and a 8mp/16mp dual-camera, and has 2GB RAM and 16GB ROM. It is also powered by a 2600mAh battery and uses the Android 4.4 OS. It also supports common features like a GPS. 
Mogu has stated that the M7's processor is the 2GHz MT6595. If it is true, then, it should be the MT6595M, which the Lenovo Vibe X2 also uses. What does not make sense is that this phone is aid to use Cotex A-7 and PowerVR SGX544 cores. Everybody knows that the MT6595 uses A17 and A7 cores and that its GPU is the Power VR G6200. This phone also only supports WCDMA/GSM but the MT6595 does not, casting doubt on whether or not this chipset is the M7's processor.
The Mogu M7 is already on sale in Mogu's official online store for 1399 RMB.