UMI Hammer Listed On Flipkart For Rs.10,999 In India!
Its looks like after experimenting with the domestic market, Chinese companies are keen to enter one of the world's fastest growing smartphone market, India. Yesterday, we reported that Elephone was entering the Indian market officially with its super slim Elephone G7 model. And looks like there's another domestic Chinese company who's already entered India.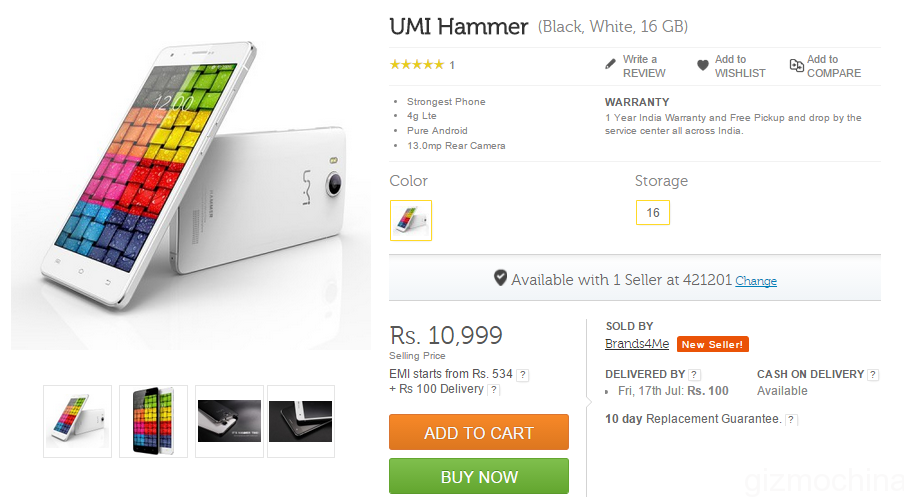 Earlier today, we spotted the UMI Hammer rugged smartphone on India's leading e-commerce website, flipkart. I am sure you must have heard of Flipkart, if not, its the e-commerce site which Xiaomi had exclusive tie-up to sell its smartphones and accessories. Now, it looks like UMI too has a tie up with Flipkart to launch its first smartphone in India, the UMI Hammer.
According to the listing, the UMI Hammer is currently available for sale on the website for Rs. 10,999 which comes to $173. Given that its listed on Flipkart, you don't have to worry about custom duties and other taxes. Moreover, the listing says that buyers will get 1 year warranty in the country, which is yet another good news.
The UMI Hammer is a pretty good mid-range device. The added rugged body makes it special alongside other mid-range offerings. Specs include Mediatek MT6732 quad-core chip with 2GB RAM, 5-inch 720p display, 13MP camera and 4G LTE connectivity.
So, does this mean UMI has officially entered the Indian market? Also, if it did, is the partnership with Flipkart exclusive or will UMI phones be available via other retailers such as Amazon? Well, these are some of the questions that remain unanswered. But we hope to receive an official word from the company soon.
Till then, check out the UMI Hammer listed on Flipkart.
You can also check out our detailed explanation of how the UMI Iron's Eye scanner works from this article.