Xiaomi Libra Spotted On GeekBench With Snapdragon 808
A new Xiaomi smartphone has just been spotted on the Geekbench benchmark website. Interestingly, the device is code named Xiaomi Libra and comes with the premium Qualcomm Snapdragon 808 chipset. The model also comes with 2GB RAM and managed to post decent scores in both the single core and multi-core tests.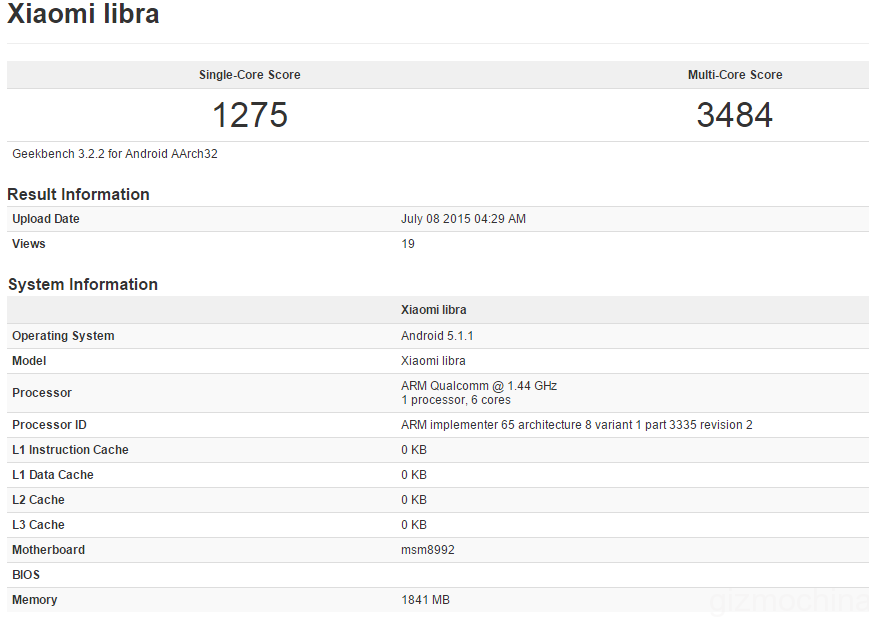 Unfortunately, at this moment, we have no idea which is this new Xiaomi device. Snapdragon 808 is a premium chip from Qualcomm, however, it may not be necessarily be limited to flagship devices. Also, considering that its slightly slower than the Snapdragon 810 chipset, its unlikely Xiaomi will use this chip inside its upcoming Xiaomi Mi5 handset.
So, if its not the Mi5, then which is this Xiaomi Libra model? It could be the rumored high-end Xiaomi Redmi Note 2 smartphone, but it will most likely come with something less powerful like the Snapdragon 615. Hence, if we had to guess which phone is this, we would have to go back May, when leading Chinese Industry Analyst, Pan Jiutang had claimed that Xiaomi was developing a smartphone for China and international markets.
Given the limited availability of Xiaomi Mi4i, he had claimed that for the international markets, the company was working on something a little more powerful, which would be powered by the Snapdragon 808 chipset. This particular model would be placed between Xiaomi Redmi series and the Xiaomi Mi flagship series. It could be called as the Mi4i in the new markets, but we are not sure about the name.
Anyways, he had also said that the pricing should be similar to Mi4i, somewhere between 1,299 Yuan and 1,499 Yuan. Further, he added that the launch time should be around Q3 2015. So, it looks like this could be the smartphone that he was talking about.
At this moment, we have no other information, except that its powered by Snapdragon 808 with 6 cores clocked at 1.44GHz (a bit slower than usual) and it runs on Android 5.1.1 Lollipop version. However, if the device is going to launch anytime soon, we could see more information pretty soon. So, stay tuned to the website for more updates.