Xiaomi's Most Expensive Product, The QiCycle R1 Revealed
Yesterday, as per a WSJ article, we reported that Xiaomi was going to announce a brand new bicycle under the brand name, the QiCycle, sometime this week. Now, one of the Xiaomi's official weibo accounts has revealed the new smart bike called as the QiCycle R1. This particular bicycle will be enter crowdfunding stage on March 22 at 10PM.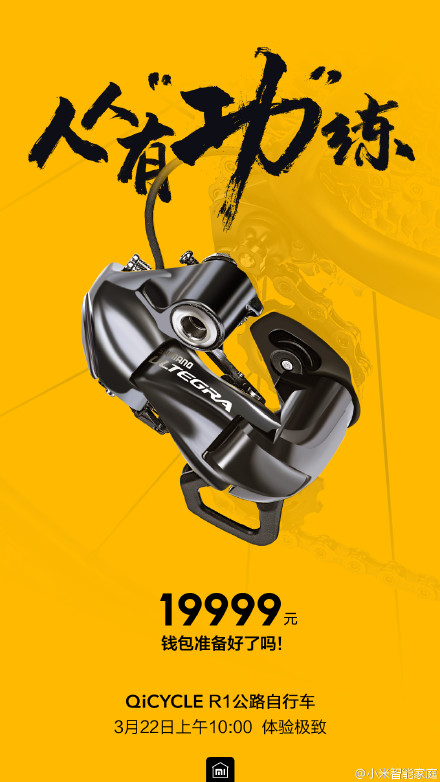 This could be one of the products from the company's ecosystem, but as of now, Xiaomi has not yet officially revealed how the product is associated with the company. However, we can expect a lot more details when the bike is up for crowdfunding on March 22.
The QiCycle R1 will be the company's most expensive product to date, retailing at a whopping 19999 Yuan ($3000). According to previous information, the Xiaomi Bike will be made out of lightweight carbon fiber body, weighing about 7kg. There will be a bunch of motion sensors on board to measure the output. Given the exorbitant price tag, you can expect only professional bikers and enthusiasts to actually consider purchasing the QiCycle R1.
In case you are feeling left out, there is a rumor going around that a cheaper Xiaomi Bike, costing between $450 to $550 will be released soon. If that's within your budget, then you could soon be riding a Xiaomi bike around.
So, it looks like Xiaomi is basically trying to provide you everything. From smart TV (including curved screen TVs), smartphones, air purifiers, water purifiers, to smart shoes and smart bikes, in a few years time, your house could be flooded with Xiaomi products. Not that it's a bad thing, considering the quality and the pricing of Xiaomi devices. But just stating that it's definitely a possibility. In case you missed, Xiaomi is going to release a smart cooker as well, sometime before the end of this month!
Unfortunately, most of these products are still limited to China. Hopefully, that will change in the coming years.