Zauba Listing of OnePlus 3 Confirms $305 Starting Price
by Habeeb Onawole Jun 12, 2016 5:43 am2
The OnePlus 3 news never ends. Information from Zauba, a website that lists Indian import and export data shows that 7200 units of the OnePlus 3 (A3003, Graphite) 64GB edition was imported for a total sum of $2.46 million after conversion from INR. We did the math and arrived at a price of $341.66 per unit.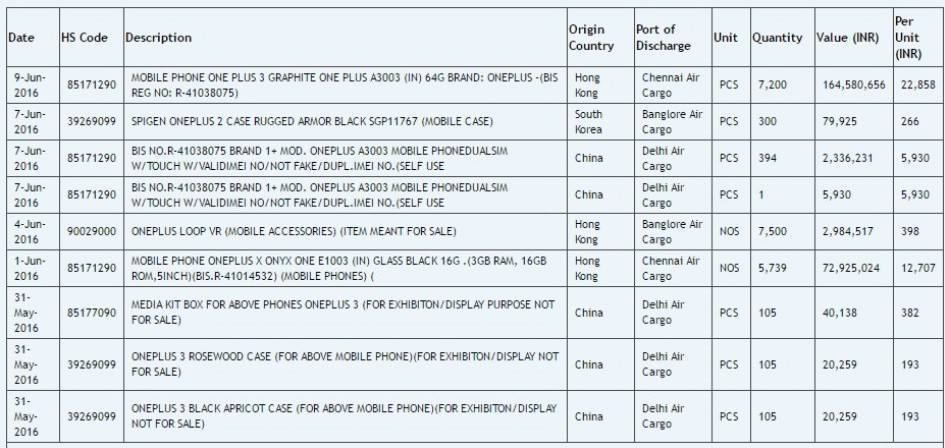 Since the OnePlus 3 is expected to have multiple ROM versions (32GB, 64GB, 128GB), we deduced that the version above is the 4GB/64GB version. Speculations in recent weeks states that the OnePlus will have a starting price of 1999 Yuan which is approximately $305. And since the version imported has a price tag of $341, it kind of hints that the base model which will sport 4GB RAM and 32GB of ROM will cost $305.
There are some other items on the import list as well, such as cases VR kits, and even the OnePlus X. Though some of the accessories are listed as not for sale, we still decided to do the math for our wonderful readers so that you have a rough estimate of what you'll be spending if you eventually pick up the OnePlus 3.
OnePlus Loop VR = $6
Black Apricot Case = $3
Rosewood Case = $3
After converting for the OnePlus X (Black Onyx, 3GB/16GB) we arrived at $190. This also confirms the price reduction announced a few weeks back for the OnePlus 2 and OnePlus X phones.
The OnePlus 3 is going to launch on June 14th via a VR event which will also let users purchase units for the first time over VR.
*all prices were approximated after conversion