New Motorola Phone with 8GB ROM Seen at FCC: Might Be A New Moto E
by Habeeb Onawole Feb 18, 2017 2:45 am1
The Moto E is the low-end line from Motorola with very budget specs and intended for emerging markets. 2016 saw us getting two models of the phone: the Moto E3 and Moto E3 Power. Both devices were released in September and less than 6 months later, it seems we might be getting a new model.
A tweet by leakster Roland Quandt (@rquandt) mentions details of a Motorola phone seen on the FCC's website. The phone's model number is listed as Moto XT1750 and is codenamed "Watson". It has 8GB of internal memory, dual SIM support, and a 2350mAh battery.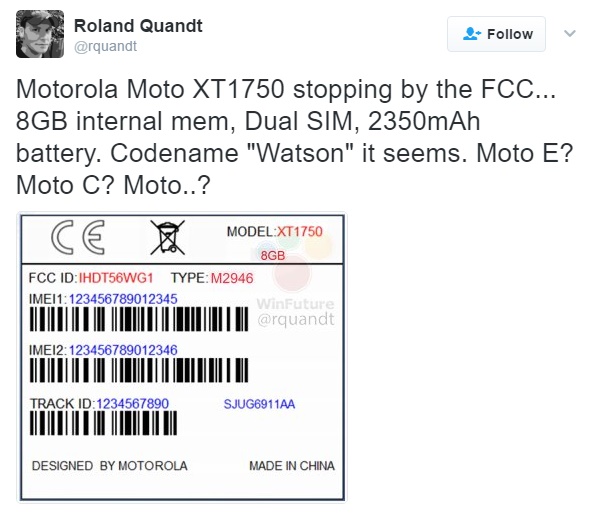 The internal memory hints at it being a Moto E since that's like the signature storage of the series (save for the E3 Power). The battery capacity is what's confusing though. Last year's model has a 2800mAh battery but comes with a 5-inch 720p screen. Both features are upgrades from the 2015 model which has a 4.5-inch (540 x 960) display and a 2390mAh battery. There is no mention of the screen size of this new device, but it will be unwise to bundle it with a smaller battery if they are retaining the 5-inch display.
READ MORE: Lenovo Underestimated the Difficulty of Reviving Motorola During Acquisition
Yes, the Moto E3 and E3 Power are barely six months old but that is because they were released later than usual. The 2nd Gen model was released in February 2015, so this might get a launch soon as well, probably at MWC alongside the Moto G5. Who knows?
What do you think? Is this a new Moto E phone or will you go with Roland and give it a new name like the "Moto C"?
(Source)