AnTuTu's Most Value For Money Smartphones In February
AnTuTu has released a rundown of the top 10 smartphones which provided the most value for money as at February 28, 2017. The ranking is based on the prices of the smartphones between February 1 and February 28, but this is restricted to Chinese brands.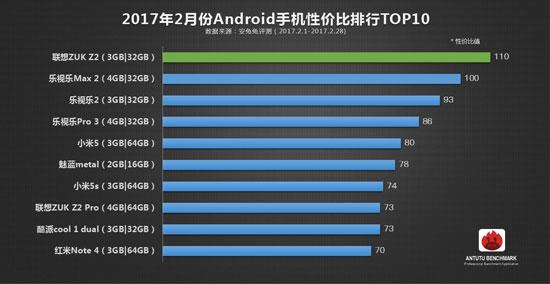 When compared to the data obtained in the past two months, the recent data is said to have witnessed a decline in the overall cost-effective ratio. This means consumers got less value for their money from the smartphones which topped the chart in February than they did in the previous two months.
The price ratio is based on the average AnTuTu score of the smartphone divided by its current price. The current price used is the smartphone's price listed on Jingdong. Also, smartphones usually come in 16GB, 32GB, 64GB and 128GB versions. Since the price of a model depends on its specific storage version, the storage version which made it up into the list is specifically stated.
Top on the list is the Lenovo ZUK Z2 (3GB + 32GB version) which is equipped with Snapdragon 820 processor and is currently priced at 1199 Yuan. This price tag makes it the cheapest flagship and arguably offers the best value for your money. The ZUK Z2 is closely followed by the LeEco Le Max 2 (4GB + 32GB) which seems to have gotten a price reduction in February. The third position is occupied by the LeEco Le 2 (3GB + 32GB) which is priced at 999 Yuan. Another LeEco smartphone also comes in at the fourth position, this time the LeEco Le Pro 3 (4GB + 32GB) which clutches a 1899 Yuan price tag. The Xiaomi Redmi Note 4 (3GB + 64GB) with a price tag of 1199 Yuan also made it into the list at the tenth spot.
Read More: Top 10 Smartphones On AnTuTu In February 2017
The Lenovo ZUK Z2 Pro (4GB + 64GB) enters at the eighth spot as a new entrant. The ZUK Z2 Pro is powered by a Snapdragon 820 chip and a 1899 Yuan price tag. The rest of the top 10 is made up of the Cool 1 Dual, Xiaomi Mi 5S, Mi 5 and the Meizu Metal.
(source)