Fake Nokia 3310 Pops Up in China, Buyers Beware
by Habeeb Onawole May 4, 2017 10:32 am1
This year, HMD Global released a bunch of new Nokia Android phones. However, their MWC 2017 highlight was the announcement of a new Nokia 3310. The buzz around the reincarnated legend was even more than that of the other Nokia Android phones announced at the event.
The Nokia 3310 which is priced at EUR 49 shares some design similarities with the original model but also sports some new features. Features you best recognize as a fake has been reported sighted in China.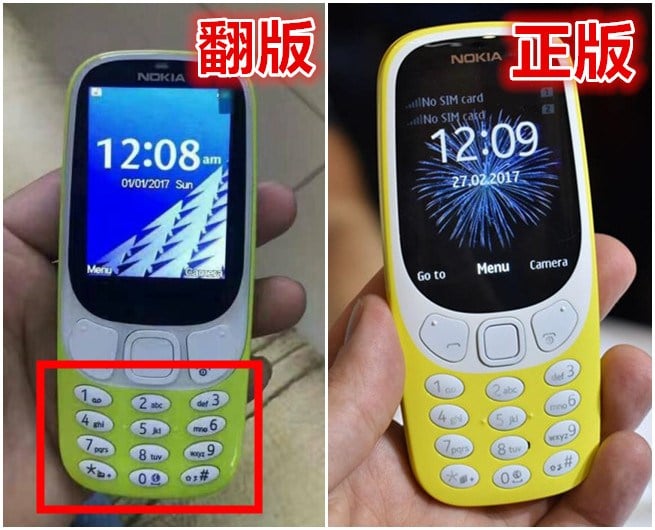 The clone is well made such that it can pass for the original but a few differences should keep you safe from falling for it. The image above shows the fake on the left and the genuine version on the right.
The first key difference is the homescreen. You can see they are outlined differently. On the fake, the menu button sits on the left instead of the middle and the "Go to" button is missing as well. The screen quality is also low and the fonts are different.
The other difference is the keypad. The keys are smaller and are coated with black ink on the fake unlike that of the original which are bigger and are coated in silver. The body of the fake is also coated in a paint of yellow that appears dull compared to the original. This last difference might not be very visible to those who have difficulties distinguishing colors but the others mentioned above should help.
READ MORE: New Nokia 9 Concept Render With Bezel-less Design, Dual-Lens Camera Surfaces
The Nokia 3310 is just a feature phone that may not cost much, but if you end up with phones like this, you end up putting yourself at risk. Since it is a fake, it definitely didn't get certified. Safety features like the SAR value may likely be below standard.
(Source)