6 Days to Launch Date: Nubia Z17 Bezel-less Design & Speed Teased
ZTE's elite brand, Nubia will be releasing its 2017 flagship which it christened Nubia z17 on June 1. Ahead of the launch event, the company has commenced what could be daily teasing of the Z17's main features.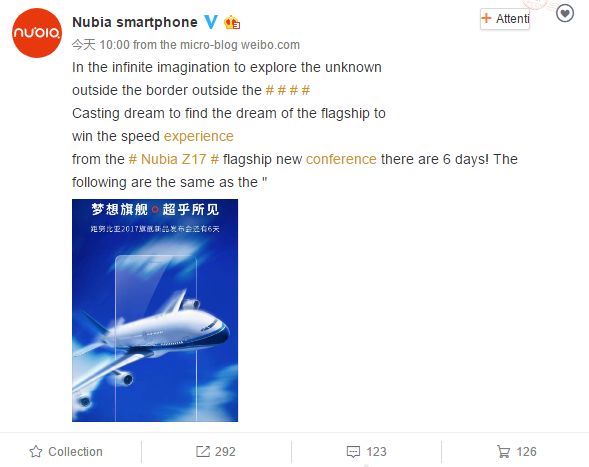 The company today posted a new teaser on the Nubia smartphone Weibo page which teases the Z17's bezel-less design that sees the reduction in the side bezels around the screen. The leaked images of the Nubia flagship may not have given us a clear glimpse of the extent of the curves the screen would have because the teaser suggests it would be curved on all four sides.
Read M0re: Nubia Z17 Will Be World's First Smartphone with Quick Charge 4.0
Apart from the borderless display, the Nubia Z17's teaser also talked about its super fast speed symbolised by a jetliner on the teaser. This is no doubt, due to the Snapdragon 835 chip the device will feature as already revealed on TENAA and on both AuTuTu and GeekBench. That isn't the only front where the Z17 will be super fast as the flagship has been revealed as coming with Qualcomm's latest Quick Charge 4.0 fast charging technology. We are likely going to see more teasers before the final launch date.
(source)