Leaked Images Show Cancelled Nokia RX-100 Phone With A Physical Keyboard Running Windows Phone 8
by Habeeb Onawole May 28, 2017 10:36 am0
Back in 2012, there were rumors Nokia was working on a new smartphone with a physical QWERTY keyboard and a design similar to the E-series. It would run Windows Phone and it was expected to be unveiled at MWC 2012. Sadly, the phone never saw the light of day.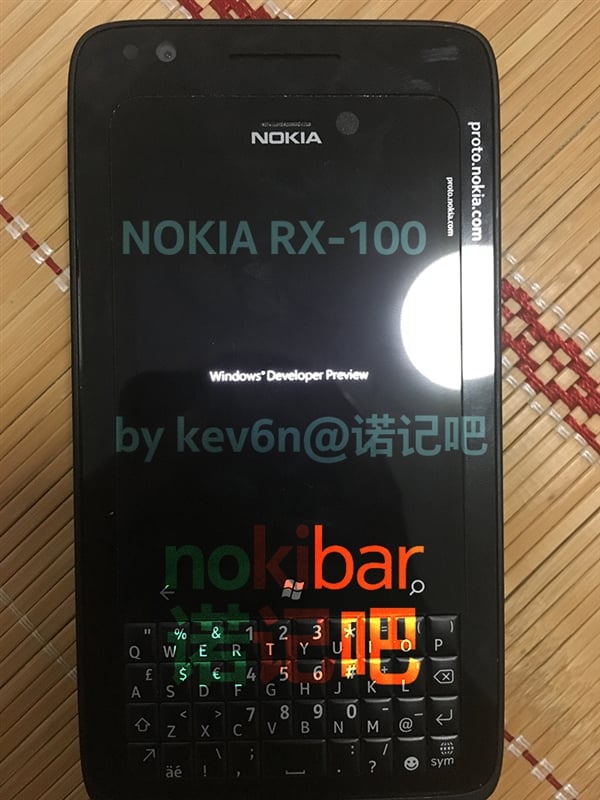 Today we get to see live images of a prototype leaked by @kev6n on Baidu. The model is unknown but the type is RX-100 and its running a developer preview of Windows Phone 8.
The screen is an AMOLED display and seems to be around 3-inches and there is 2GB of RAM on board. A system info page also shows the Nokia RX-100 is powered by a Qualcomm MSM8968 chip and the main camera sensor is a Toshiba Lada TCM8615MD.
READ MORE: Nokia Revive Series: The Return of The Legends, Starting With The Re-imagined Nokia N97
Design wise, the Nokia RX-100 doesn't look attractive. The bezels are huge just like the old Nokia feature phones. There are capacitive buttons below the display and the keyboard holds 39 keys. An image of the back shows that the RX-100 is a prototype device made in Finland. You can also clearly see the words "NOT FOR SALE" written on it.