The VKWorld Z3310 is A Lookalike of The Nokia 3310 (2017)
by Habeeb Onawole Jun 10, 2017 1:31 pm6
They say imitation is the sincerest form of flattery. The VKworld Z3310 is an imitation of the Nokia 3310 (2017). Save for the VKworld branding on the chin of the display, the Z3310 can pass for the revived legend.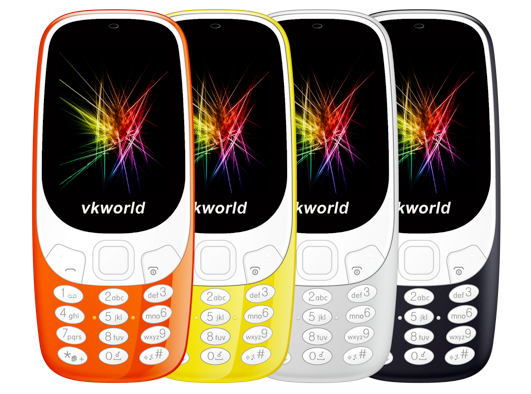 The VKworld Z3310 is expected to be released at the end of June and will sell for about half the price of the Nokia 3310 (2017). The Nokia 3310 is priced at €49 (~$55), which is high for a feature phone. The Z3310 will not only sell for less but is said to even feature better specs.
The new Nokia 3310 has a 2.4" display, 16MB of built-in memory and a microSD card slot (32GB max.) It also features a 2MP rear camera with flash and a 1200mAh battery. If VKWorld is offering something better, then we should expect a larger built-in memory, a higher resolution camera and a slightly bigger battery.
READ MORE: Vkworld F2 with Sony IMX149 Sensor only $59.99 during preorder
According to an image provided, the VKworld Z3310 will be available in the same red, dark blue (black), grey, and yellow colors of the 3310 (2017).
If you have been putting off purchasing the new 3310 because of its price tag, then you may want to wait for VKworld to release their own. Since this is made by a company that is known for making phones it is better than the cheap knock-off available in some markets in China.