Xiaomi's Second Quarter Shipments Show Improvement
by Habeeb Onawole Jun 12, 2017 9:10 am4
Supply chain insider, Kevin King has revealed that Xiaomi's shipment for the second quarter in 2017 has improved. Last quarter, the company had recorded 13 million units in smartphone shipments. According to Kevin, they are set to exceed 20 million this quarter.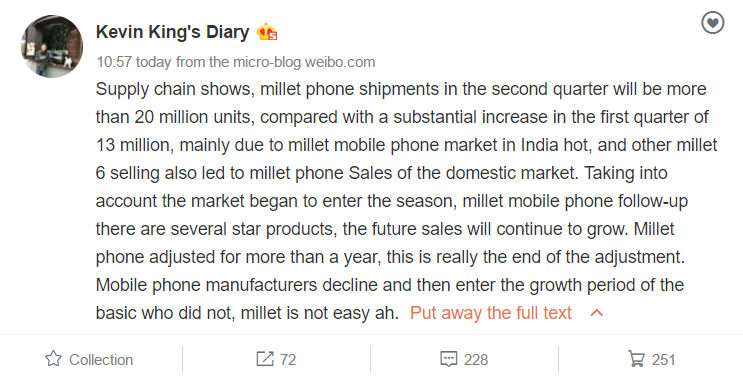 The info was revealed via his weibo account @Kevin King's Diary. The reason for the increase in sales is attributed to Xiaomi's performance in India where its Redmi phones are doing very well and also the recent release of the Mi 6 in its home market.
Kevin King believes the increase in shipments will continue to rise as Xiaomi still has a number of "star products" hitting the market soon. Last year, Xiaomi suffered a decline in sales, causing it to drop in ranking in China. It is good to see things are getting better for them.
READ MORE: Xiaomi Mi 5 MIUI New Update Improves Fluidity & CPU Allocation
Xiaomi still has the Mi Note 3 and the second generation Mi MIX billed to launch this year. Those two are those that have been confirmed. However, there have been sightings of a new Redmi device and a Snapdragon 660 powered phone said to be a less powerful variant of the Mi 6.
(Source)