ZTE Nubia Z17 v/s Xiaomi Mi 6 – We Help You Decide Which One To Go For
If you are a smartphone enthusiast, you'd agree to the fact that, ZTE Nubia Z17 and Xiaomi Mi 6 are undoubtedly two of the best devices to come out of China at the moment. Both, the Z17 and the Mi 6 are the flagship devices of the respective brands, announced over the last couple of months, and features the best-in-class RAM and processors.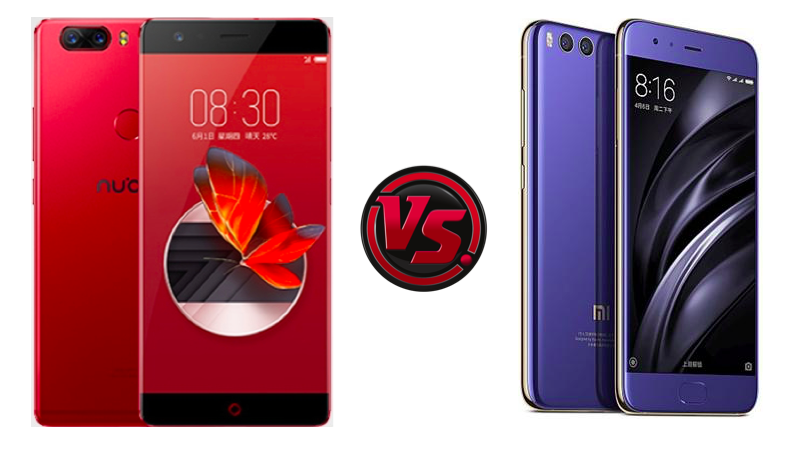 Of course, if you are out in the market looking for a high-end flagship smartphone, it's a huge dilemma as to whether you should opt for the one from ZTE or Xiaomi. Here in this post, we will help you select one of these two phones depending on your requirement, usage, and budget.
ZTE Nubia Z17 v/s Xiaomi Mi 6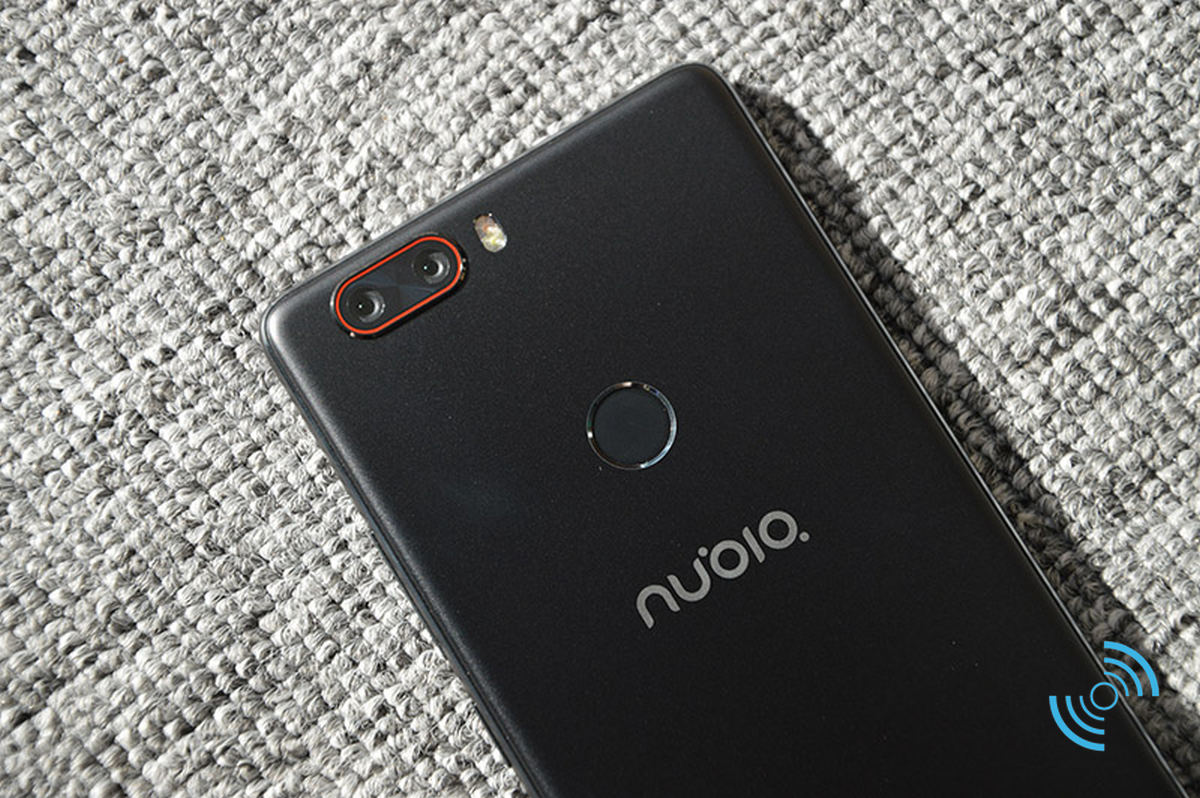 Design & Display
Talking about the design, both these phones, as expected, sport top-notch slim design that's elegant on the eyes and feels great in the hands. Talking about the dimensions of these phones, the Z17 measures 152.6 x 72.4 x 7.6 mm whereas the Mi 6 measures145.2 x 70.5 x 7.5 mm. As you must have already noticed, both these devices are almost equally thin however, the Z17 is a meager .1 mm thicker to the Mi 6 measuring 7.6 mm. In terms of weight, the Mi 6 is slightly lighter at 168 grams to its counterpart – Z17 that weighs 173 grams.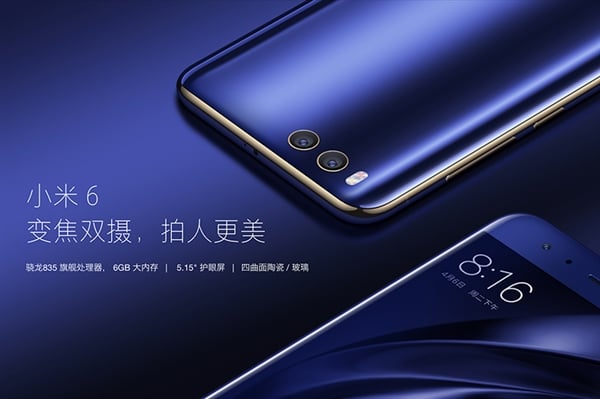 Display:
Both the phones come with IPS LCD capacitive touchscreen with Corning Gorilla Glass display, however the Nubia Z17 sports a slightly bigger screen that's – 1080p 5.5″ screen with ~74.7% body to screen ratio and ~403 PPI pixel density. On the other hand the Mi 6 1080p 5.15″ screen with ~71.4% body to screen ratio and ~428 PPI pixel density.
Color Options:
The Mi 6 comes in four body color options namely Black, Blue, White, and Ceramic Black; whereas the Z17 comes in five color options to choose from i.e. Obsidian Black, Solar Gold, Black Gold, Flame Red, & Aurora Blue. Also, as we had reported earlier,  Xiaomi has axed the 3.5 mm audio jack in the Mi 6, and now ZTE has decided to go with the same decision as well.
Winner: It's a tie between both these devices considering both the companies have chosen their own design language which is appealing to its own set of users.
Hardware Specifications
Processor & Storage:
Both, the Z17 and Mi 6 are powered by Qualcomm's newest and fastest Snapdragon 835 processor and interestingly enough, these are the only two devices to come out of China that are powered by this chipset. It has octa-core chipset which includes four 2.35 GHz Kryo & another four 1.9 GHz Kryo processors coupled with Adreno 540 GPU.
Coming to the storage and RAM in these devices, the Z17 comes in two variants i.e. 64/128 GB ROM + 6 GB RAM and 128 GB ROM + 8 GB RAM. It is important to note that the Z17 is among only a handful devices to feature 8 GB RAM on board. It makes the Z17 a powerhouse in terms of processing speed and capabilities. On the other hand, Mi 6 comes with 64/128 GB of internal storage option with 6 GB RAM.
Both these devices do not support storage expansion slots so it's important for you to decide which variant to go for depending on your future storage needs.
Battery:
Despite having a larger 5.5″ screen and increased RAM on the Z17, it has a slightly smaller battery of 3200 mAh whereas the Mi 6 comes with a 3350 mAh non-removable battery. So if you are someone who's a power user and remain on the go most of the time, we would recommend you the Mi 6 over the Z17.
Winner:
After reading the above paragraphs, it would be obvious to most of you that if you're a power user but can manage with the slightly smaller battery then you should be undoubtedly going for the ZTE's flagship of the year.
Camera
Another important yet overlooked aspect for all the smartphone buyer is the Camera capability. Thankfully, both of these phones come with dual-lens. The Z17 has a 12 MP lens with f/1.8 and another 23 MP lens with f/2.0 and face detection, auto-focus, 2x optical zoom feature. On the other hand, both the lens for the primary rear camera on the Mi 6 is loaded with 12 MP lens with f/1.8, and f/2.6 aperture. Needless to mention, both these smartphone cameras have the common features namely geo-tagging pics, touch focus, face detection, click on smile, and so on.
For snapping selfies, the Z17 has a 16 MP lens while its counterpart Mi 6 has only a 8 MP sensor.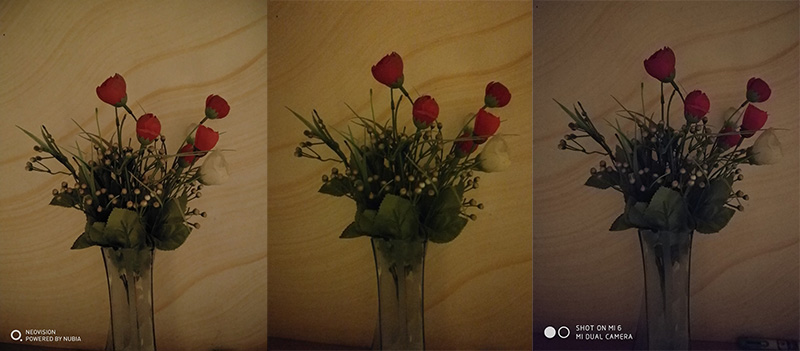 Winner:
The Nubia Z17 is undoubtedly the winner in the camera aspect, at least going by its specifications on paper. To have a better idea on the camera output of these phones, do check out our earlier post – Nubia Z17 vs Huawei P10 vs Xiaomi Mi 6 Low Light Camera Performance Comparison: Guess Who Wins?
Features & OS
Being the flagship devices of their respective brands, both, the Nubia Z17 and Mi 6 comes with most of the features seen on high-end smartphones these days including support for 4G LTE, Wi-Fi, Bluetooth, NFC, a fingerprint sensor, etc.
In terms of OS, both of them are loaded with Android's latest Nougat v7.1.1 operating system out of the box with the brand's proprietary UI on top of it namely Nubia UI 5.0 in the Z17 and MIUI 8.0 in the Mi 6.
Winner: Tie
Availability & Pricing
Both the phones have been launched in the Chinese market already and the 64 GB and 128 GB versions of Mi 6 are priced at 2,499 Yuan (about $367) and 2,899 Yuan (about $425) in China. On the contrary, the ZTE Nubia Z17 6 GB/64 GB version, 6 GB/128 GB, and 8 GB/128 GB versions cost 2,799 Yuan (~410 USD), 3,399 Yuan (~500 USD), and 3,999 Yuan (~590 USD) respectively.
Winner:
If you are looking for something that would make a smaller hole in your pockets yet give you the flagship experience than definitely go for the Xiaomi's Mi 6. However, if budget is not a constraint for you, the Nubia Z17 is definitely the winner considering its design, features, and specifications.
If you want to compare the full specifications of the Xiaomi Mi 6 vs Nubia Z17, check out this link.