Honor 9 vs Xiaomi Mi 6: Affordable High-End Flagships Knockout Comparison
The Huawei's Honor 9 has arrived fully-spec'd to rival Xiaomi's Mi 6 in the affordable high-end flagship battle. For all smartphone enthusiasts or consumers who would like a good price for a high-end device, picking the right device is a tricky decision. So, it makes sense to compare the two flagships from China, the Huawei Honor 9 vs Xiaomi Mi 6.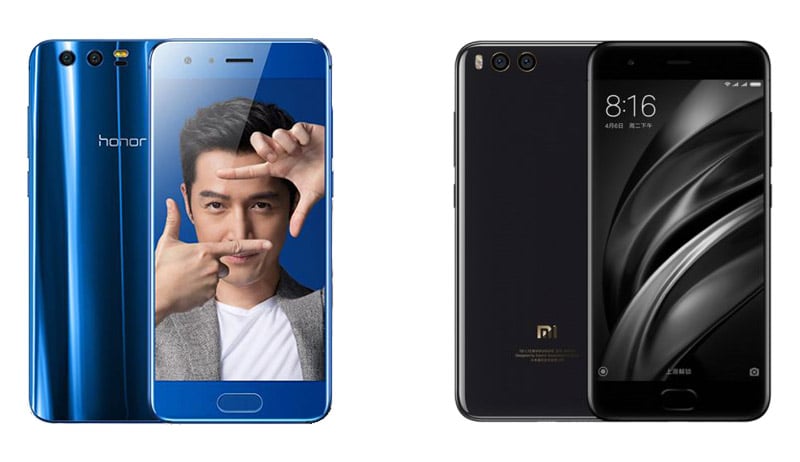 In this article, we will be comparing each phones' primary features and help determine which option is best for you.
Display & Design
In terms of design, both smartphones share very similar characteristics, front and back glass-covered bodies with a metal rim on the sides. Dimensionally, the Xiaomi Mi 6 sizes at 145.17 x 70.49 x 7.45 mm whilst the Honor 9 at 147.3 x 70.9 x 7.5 mm; both devices operate as very slim slates, with the Honor 9 only thicker by a meager 0.05mm in depth, 2.13mm by height and 0.41mm by width. For long period use both phones come in light packages, Mi 6 at 168g and Honor 9 at a superlight 155g. Note: The Mi 6 also comes in a premium ceramic model, weighing at 182g.
Display
Both smartphones come with IPS LCD capacitive touchscreen with 2.5D Corning Gorilla Glass, both sporting 5.15inch and resolution at 1080p (Full HD) at ~428 PPI pixel density. Mi 6's screen covers at ~71.4% body to screen ratio, whilst the Honor 9 at ~69.9% body to screen ratio1.
In terms of display quality, we will be acquiring an Honor 9 unit soon for more accurate details; however, from our review on the Xiaomi Mi 6, the device hasn't disappointed in the balance of vibrancy, sharpness and color reproduction. Xiaomi has also pushed the minimum brightness down to a single nit of brightness, which is very impressive in comparison to other 1080p smartphones panels.

Color Options
The Mi 6 is available four body color options: Black, Blue, White, and Ceramic Black; whilst the Honor 9 is available in: Sea Blue, Amber Gold, Black, Seagull Gray.
Other Features
The Mi 6 have removed the loved 3.5mm, whilst the Honor 9 has kept the feature.
Our Pick: Honor 9.
The Honor 9 provides more choice in color whilst Mi 6 offers more choice in material (glass and ceramic), screens are similar on paper, however, the Mi 6 offers a smaller dimensional package but the Honor 9 weighs 13g less. Still, here the Honor 9 steal the win here as they have provided a 3.5mm headphone jack also.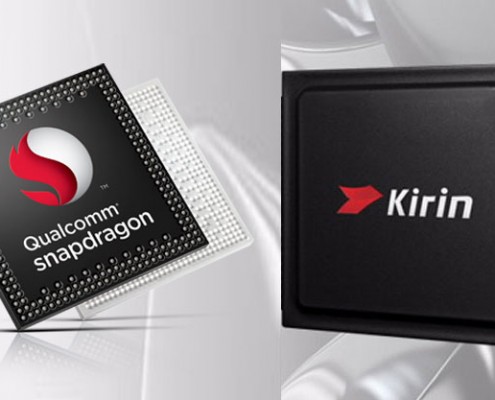 Hardware Specifications
Processor, RAM, and Storage:
The Mi6 will be powered by Qualcomm's current fastest Snapdragon 835 processor. It has octa-core chipset which includes four 2.35 GHz Kryo & four 1.9 GHz Kryo processors coupled with Adreno 540 GPU. The Honor 9 is run with an in-house Kirin 960 Octa Core four 2.4 GHz Cortex-A73 & four 1.8 GHz Cortex-A53.
In terms of RAM and the storage, the Mi 6 comes with 64 or 128 GB of internal storage options with 6 GB RAM. Whereas the Honor 9 comes in two variants, 64GB + 4 GB RAM and 64 or 128 GB + 6 GB RAM.
The Honor 9 offers external microSD expansion supporting up to 256GB, however, the Mi 6 does not support storage expansion slots. Keeping this in mind, it's important for you to decide which variant to purchase in consideration to your future storage needs.
Battery:
The Mi 6 comes with 3350 mAh and the Honor 9 with 3200mAh, both of which are non-removable batteries.
Our Pick: Tie.
This section is a very close call, both phones are powered with very powerful CPUs, benchmarks will show that the Snapdragon 835 edges higher in integer performance (completing simple tasks, e.g. web browsing). However, Kirin 960 remains close to the 835's tail, outpacing the 820/821 also. The Honor 9 offers more choice in models with internal storage as well as MicroSD expansion, however, Mi 6 theoretically will last longer with a larger battery size.
Honor 9 vs Xiaomi Mi 6: Camera
Rear shooters:
For photo-fanatics, we are spoilt with both smartphones offering with dual-lens. Mi 6 is loaded with 12-megapixel wide-angle lens with f/1.8, and 12-megapixel telephoto lens f/2.6 aperture; the Honor 9 has a 20-megapixel lens (Mono) with f/2.2 and another 12-megapixel lens (RGB) with f/2.2. Note that the dual cameras on the Honor 9 are not Leica branded. Xiaomi has promoted the Mi 6s feature of 4-axis OIS improving steadiness of video capture, whilst featuring a lossless zoom (x2) and providing a (x10) digital zoom.
Front shooters:
Both these smartphone cameras have the common features namely geo-tagging pics, touch focus, face detection, etc.
For the selfie lot, the Honor 9 has a f/2.0 8-megapixel lens and Mi 6 has an 8-megapixel sensor but with unknown aperture.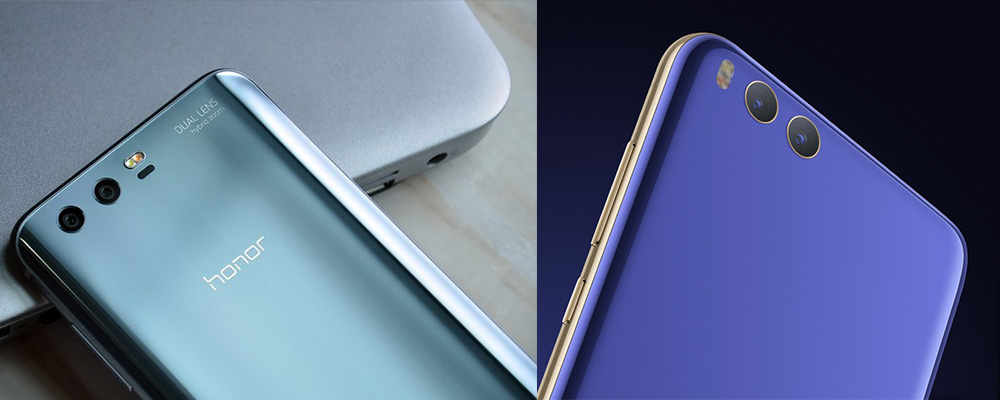 Our Pick: Unsure.
This seems to be too close, I have not had the opportunity to test out each smartphone side by side to provide my honest opinion. On paper, both smartphones show great features and the smartphone will depend on whether you would prefer better contrast pictures from the Honor 9, due to the monochrome sensor, or better zoom and wide aspect photos from the Mi 6.
Features & OS
Both flagships are shipped with expected high-end smartphones features such as 4G LTE, WiFi, Bluetooth 4.2, fingerprint sensor, NFC, etc. The flagships both come with their own custom UIs, Mi 6 with MIUI 8.0 (based on Android v7.1.1) and Honor 9 EMUI 5.1 (based on v7.0).
For more details about MIU8 and EMUI 5.02.
Our Pick: Mi 6.
Mi 6 wins due to adapting relatively the latest Android Version currently. Personally, I like MIUI since it provides stable updates on a regular basis. As for Honor 9's EMUI 5, I haven't used it yet to judge how good it is. 
Availability & Pricing
The Mi 6 has an advantage here, as it has been released since April 2017 in the Chinese market already and available for the global market. The 64 GB and 128 GB versions of the release price for the Mi 6 is at ¥2,499 (~$367) and ¥2,899 (~$425) in China, these prices can be found cheaper on online retailers. Note: The price of the Ceramic version is much higher, priced at ~¥4132.81 ($607.99)3.
The Honor 9 will be on the backfoot here since it will be officially being on sale today. The Honor 9, 4GB RAM model will be priced at ¥2299 (∼$338), the 6GB RAM + 64GB variant will go for ¥2699 (∼$397), and the 6GB RAM + 128GB version will sell for ¥2999 (∼$441).
Opinion: Mi 6. Based on the release date prices, I believe the Mi 6 is the most ideal affordable smartphone to purchase on the date of publishing, this is because the Mi 6 is currently available and the directly competing models are more likely to be cheaper than the original release price from third-party retailers, not to forget the release prices for the Mi 6 are already lower. Huawei will need to receive comments from our reviewers and consumers on availability and price before further confirmation.
Honor 9 vs Xiaomi Mi 6: Conclusion
If you are already fans of either Xiaomi or Huawei, the choice will be rather simple, as both phone provide very similar specifications. However, if you are an indecisive consumer or looking to switch camps, these two flagships prove to be a very difficult couple to pick.
If you are someone who prefers a smartphone with the smallest footprint, different build material choice, bleeding edge internals, highest capacity battery, wide-angle & closeup photos, smoother videos; regular Android-based MIUI updates, connectivity with other same-branded products (Xiaomi's smart-home products) and best prices (ex. Ceramic model), the Mi 6 is the best choice.
Whilst, if you prefer lightness, more 'spec' choices, 3.5mm headphone jack, powerful in-house CPU and better contrast photos, the Honor 9 is yours. Yes, the 3.5mm headphone jack could be a big advantage for the Honor 9, but we'll have to see if it's enough for consumers to pick the Honor 9 over Mi 6. The camera quality would be another big differentiating factor. We have seen that the Mi 6 manages to capture some great shots but we are yet to test Honor 9's camera prowess.
I hope this comparison has helped you determine which phone you would like to purchase so far, and as the Honor 9 matures this comparison should be updated accordingly.
For more details please try out our comparison feature here.
If you have any burning thoughts or queries about Honor 9 vs Xiaomi Mi 6, please drop a comment down below. I will try my best to reply.
1 Screen ratio may differ according to calculation.
2 Based on GearBest price. 16/06/17.
3 We apologize that we do not have a detailed comparison between the MIUI 8 and EMUI 5.1 at this moment.