YotaPhone 3 Spotted Featuring 5-Inch Display & 4GB RAM on GFXBench
The YotaPhone 3 has been spotted on GFXBench's database, revealing the device's model number as Yota Y3. The benchmark has confirmed previous rumors of the YotaPhone 3's specifications; this includes: a Qualcomm Snapdragon processor and running Android 7.1.1 (Nougat). Unlike my previous article, it appears that YotaPhone 3 will be sticking to a 5-inch display, like its predecessor, instead of the rumored 5.2-inch and 5.5-inch displays. We will be staying tuned to provide more details to confirm whether Yota will be providing any other display alternatives, however, variants are expected to be unlikely.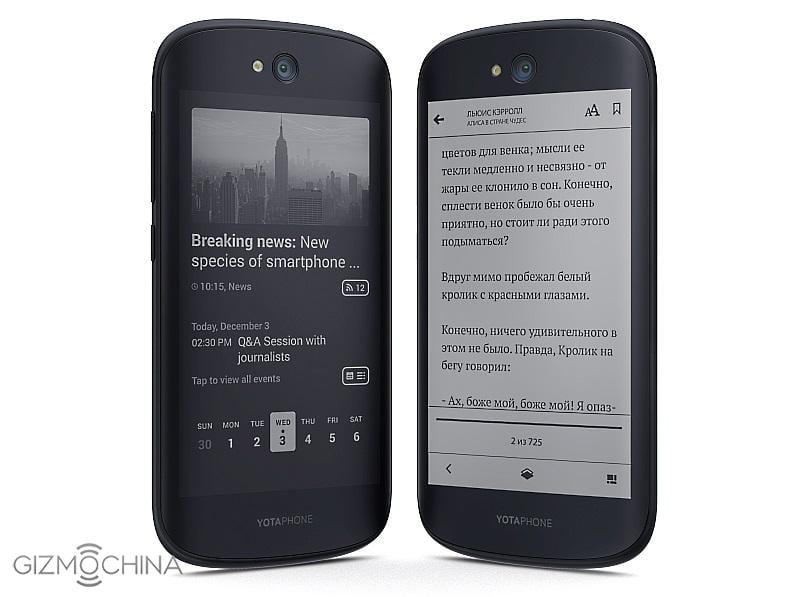 Confirmed from the benchmark, the device will be sporting 4GB RAM and have a minimum 64GB internal storage, note: 51GB will be available to the user. We also know that Yota has confirmed they will be providing a second, larger storage, device at 128GB. The Qualcomm processor is expected to a Snapdragon 625, this has been concluded from the system-on-chip makeup, containing eight ARM Cortex-A53 CPU cores clocked up to 2.0GHz paired with an Adreno 506 graphics processor. We also know that the YotaPhone 3 will feature a rear-facing 12-megapixel camera supporting 4K (3840 x 2160) video recording, High Dynamic Range (HDR) photos, face detection, and autofocus. For selfies, the device will come with a 12-megapixel front-facing camera.
In terms of sensors and connectivity, the YotaPhone 3 will have a gyroscope, a compass, accelerometer, Bluetooth and GPS connectivity, but lacks NFC. What key component we are missing from the GFXBench is the specification of the secondary e-ink display that will come with the YotaPhone 3, however, we expect Yota will be sticking to a 5.2-inch E-ink display with 1280 x 720 resolution, like its predecessor. Other features we'd be expecting is a front-facing fingerprint sensor and powered by a 3,200mAh battery. Note: This is speculated.
In terms of release and availability, the YotaPhone 3 is rumored to officially be launched and available for preorder this summer. The source states a Russian manufacturer confirmed the prices smartphones' launch prices, ranging from $350 for the 64GB model to $450 for the 128GB model.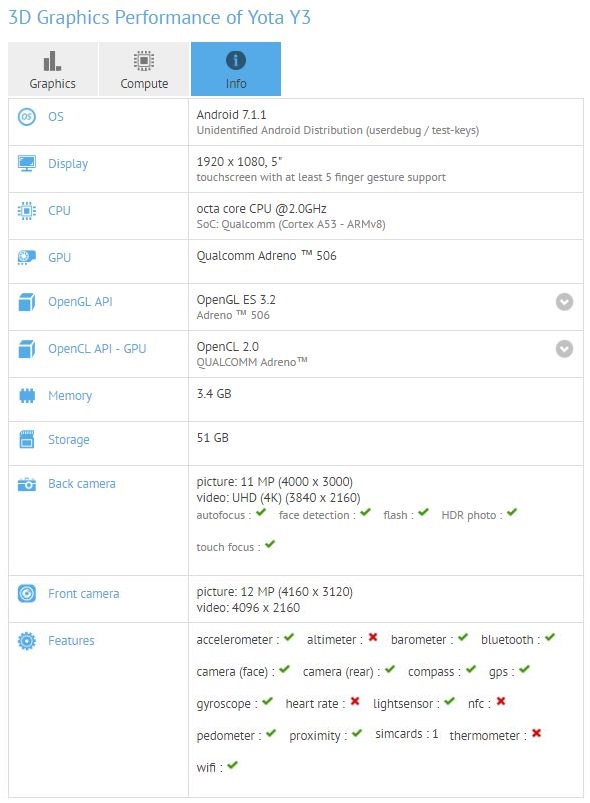 What do you think about the GFXBench's publication of YotaPhone 3's specification?
(via)