Xiaomi VP Reveals MIUI 9 Interface Screenshots on Weibo
In what could be seen as an indication of its imminent release, Xiaomi's vice-president in charge of marketing, Huang has shared a couple of screenshots of the MIUI 9. The VP was trying to get feedback from fans about what they think of the new interface. The leaked screenshots are coming barely two weeks after the MIUI Weibo account officially confirmed that MIUI 9 is in development, quoting the words of CEO Lei Jun that the MIUI 9 would be more fluid and powerful.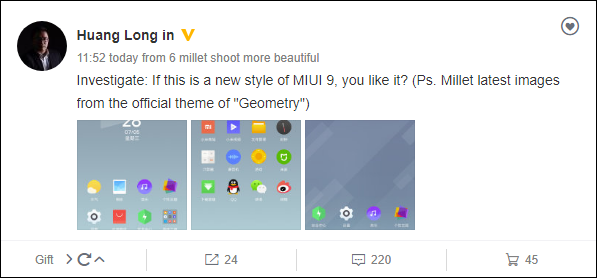 Also, we have had words before now that the MIUI 9 will come with such features as split screen and picture-in-picture with screenshots of the interface showing the features. There is also word that Xiaomi will be yanking off SMS scheduling on the upcoming interface due to a low number of SMS users and also that there won't be unnecessary apps stuck in your display as it allows users to delete systems apps.
The theme in use doesn't really look spectacular with some comments pointing out that the theme is looking rather plain. Of course, there is the option of changing the team to a more sophisticated look. The Xiaomi VP did not say if this is the icon style because it seems to resemble those of previous versions.
Read More: Xiaomi MIUI 9 Update May Arrive in July With Exciting New Features, Improvements
Certainly, it is still a while before we expect Xiaomi to officially release the MIUI 9 because the preview versions have not been seen to have gone through closed and open beta up till now. So, it may still be a while before we'll see the stable ROM of MIUI 9 rolling out. Xiaomi better hastens up though as Google will soon release Android 8.0 whereas MIUI 9 will be based on Android 7 Nougat.
(source)