Mysterious Xiaomi Helium Fueled By Snapdragon 617 Appears on GeekBench
Xiaomi seems to have a lot of new models up its sleeves despite the number of products that have been launched so far this year. Just recently, the Xiaomi X1 appeared on the radar as well as the low-specced Xiaomi  Riva which made an appearance in Geekbench. A new Xiaomi model which is simply identified as Xiaomi Helium has again appeared on benchmark tool website Geekbench.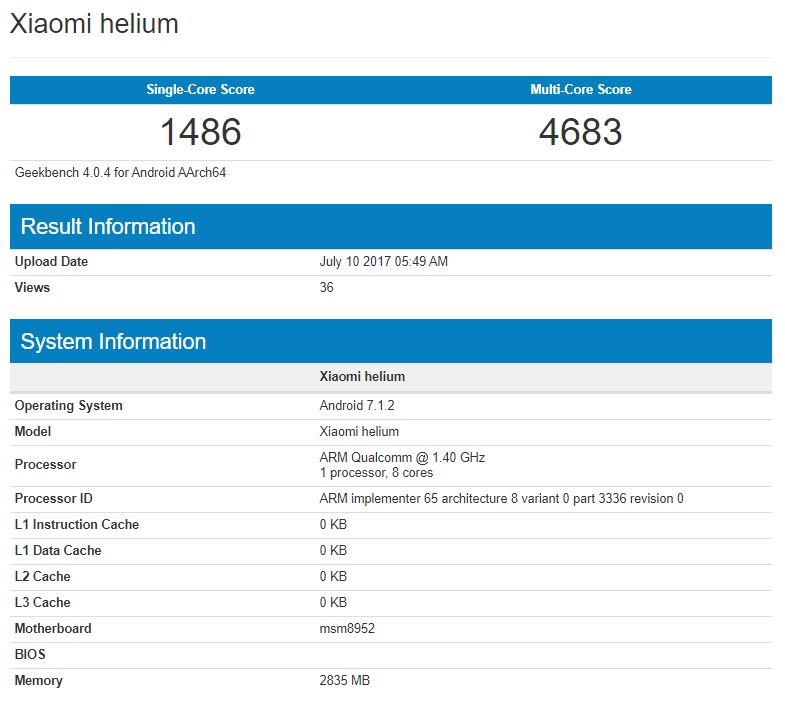 Xiaomi Helium is definitely not the real name but a codename for the model but according to the benchmark data displayed, the model would be powered by a mid-range Qualcomm Snapdragon 617 chipset which is identified by the msm8952 alias it is listed with. The CPU is an Octa-core chip clocked at 1.40GHz. The Xiaomi Helium is also listed to feature the latest build of Android 7 Nougat but this isn't likely to be raw Nougat. The device will most definitely have a touch of the latest version of Xiaomi's custom MIUI ROM.
Read More: Xiaomi's New Phone Sub-brand Will Be Called Lanmi (Blue Rice), First Device is the X1
In addition, the Xiaomi model is listed to feature 3GB of RAM and that is about all we can grasp from the Geekbench list. That leaves a lot of unanswered questions regarding the camera configuration display size, resolution and other details. We'll have to wait for Xiaomi to release more details about this mysterious model but it is worthy of note that Xiaomi used the codenames Helium and Hydrogen to identify the Mi Max launched last year. While the 64GB and 128GB versions were identified as Hydrogen, the 32 GB variant was tagged Helium. We can't say for sure if it is the same scenario playing out here because the Mi Max 2 has just been launched packing a higher Snapdragon 625 chip. But it is also interesting to note that the Mi Max 2 launched with a 4GB RAM and 64/128GB storage. So, this could be another variant of the Mi Max 2 with trimmed down specs. This is 3GB RAM + 32GB storage version of the Mi Max 2 powered by Snapdragon 617 SoC, perhaps? We can't be so sure about that but we'll be on the look out for more details on this.
(source)