MIUI 9 To Feature Smart Ad Filter Which Blocks Unimportant Notifications
Within the space of one week, the Chinese tech space is buzzing with news of the MIUI 9 which would be launched along with the Xiaomi Mi 5X on July 26. Already, Xiaomi has announced the start of the Closed Beta program from the new ROM and that would be followed by the Open beta, perhaps before the July 26 launch.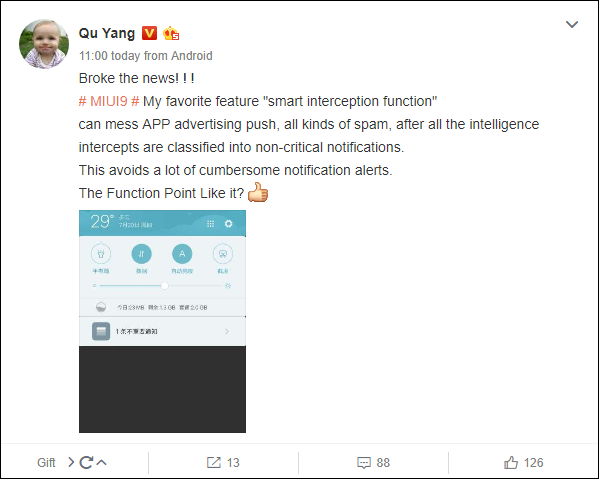 Among the prominent features, the MIUI 9 is tipped as coming with a split-screen feature which would allow users run two separate apps on the same screen. There is also a picture-in-picture mode, a redesigned dock bar and others which have been revealed in the past. Now, a new leak from a Weibo user, who is probably a beta tester, has tipped the MIUI 9 to come with a Smart advert filter which blocks ads embedded in apps from popping up unsolicited. The new feature already appears on the beta version of MIUI 9.
Read More: Xiaomi MIUI 9 Closed Beta: Here's How You Can Become a Beta Tester
Just like the ad block feature of the opera browser this feature may be a hard one for developers of free apps who live by the ads sustained in the apps. But the feature may likely be such that users can turn it on and off as desired. The feature is still in development and is said not to block all advertisements presently but that could change in the near future when it has been perfected. Here's a screenshot of the MIUI 9 interface below showing the ad filter with one notification filtered as not important.
(source)